Moving to a new country can be both exciting and scary. What should you do in your first week in Canada to set yourself up for success?
There is a lot to consider when you decide to move to a new country. Are you here on a work or study permit? Are you a permanent resident? Either way, there are certain things you should expect to do in your first week in Canada to get yourself settled faster. Here is a list of things to keep in mind and start researching before your departure date.
Find Accommodation
Everyone needs a place to live, even if it's a temporary accommodation while you get things sorted out. Airbnb and hostels are a great place to start when you first arrive in Canada but begin researching for a longer-term option right away. It is easy to find rentals through websites such as www.apartmentscanada.com or www.rentboard.ca. Also, it is a smart idea to bring references from previous landlords (if you have them) to make the process smoother.
Additionally, the cost of living can vary depending on the city. Research the average rental costs before you move to any chosen area, so you are aware of how much money you will be spending for a roof over your head.
SIN
A Social Insurance Number (SIN) is a nine-digit number that allows you to work in Canada. Therefore, if you are in Canada on a temporary work permit, you will have a SIN that begins with a 9. Apply for a SIN at any Service Canada Office and bring your work or study permit with you when you go.
PR Card
If you are a permanent resident (PR), then you are required to have a valid PR card if you wish to return to Canada after you leave the country. Do not leave Canada without your PR card.
It can take approximately two months to receive your first PR card when your application is complete. Please keep in mind that as a permanent resident, you don't need to apply for your first PR card. However, you must provide your Canadian address to complete the application:
When you land – to the immigration officer
After you land – through the webform or by phone (1-888-242-2100)
Bank Account
It is important to set up a bank account so you can manage bills, debit card payments, and avoid costly withdrawals. Luckily, getting a bank account set up in Canada is straightforward. The downside is that most banks have charges that may be higher than what you were paying before.
Expect monthly fees with chequing accounts. This is also known as current accounts in other countries. The average Canadian will spend approximately $220 in these fees every year. Therefore, it is essential to research and shop around for the best offer.
Also, it is important to note that building a credit score (by using a credit card) will benefit you greatly. A credit score is necessary when you are signing onto a phone plan, renting a car or a house, etc. If you do not already have a credit card in Canada, here are some great credit card options for newcomers. For more information about the importance of building credit, read Credit and Credit Scores in Canada.
Phone Plan
Avoid roaming charges from your home provider and invest in a Canadian phone plan, especially if you are planning to stay in Canada for a year or longer. If you are able to commit to a one or two-year contract, many Canadian phone companies can offer discount rates on phones.
Moreover, many cheaper mobile phone plans do not include long-distance calling, even in Canada. To save yourself the headache, incorporate international and long-distance calling or texting in the cost so you can stay in touch with those who are farther away. If this option is not part of the phone plan you want, then ask the phone company if you can add it on.
Socialize
Now that most of your errands are out of the way, it is time to get out there and meet people! Start building a network of friends and acquaintances to help this new city feel like a home. A great place to start is by exploring any interests you have. Sure, you can go to a bar, but you can also join a hobby club or a recreational sports team.
Do Something Touristy
This is an exciting adventure! Use it to check something off your bucket list. Whether you choose to go to the top of the CN Tower or rent a car for the weekend to explore the city, do something that will make you smile. After a stressful week, you deserve a break.
Are you looking for more? Read Immigration to Canada: How to Make it Happen next!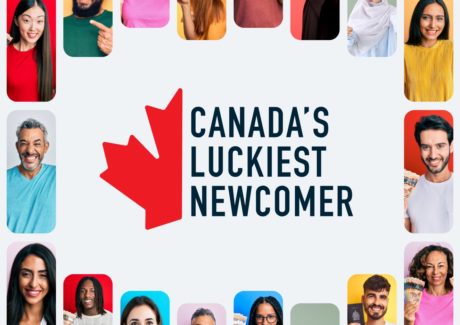 Contest
A giveaway celebrating new Canadians