Do you want to obtain your post-secondary education in Canada? This is everything you need to know about getting a study permit!
Canada has over 280 post-secondary institutions, so choosing where to study can be a tough decision. However, studying in Canada offers many benefits. You can bring your spouse or common-law partner with you. Also, it can accelerate the immigration and permanent residence process, which makes it easier to live in Canada after you graduate. This is what you need to know about getting a study permit in Canada:
Necessary Documents
Before applying for a study permit, candidates will need to gather the following documents:
Valid passport or travel document
Proof that you can support yourself, as well as any family members who come with you
An acceptance letter from a DLI — Designated Learning Institution
Please keep in mind that school applications will vary. Therefore, contact the schools you are interested in to find out what they require from you beforehand.
Moreover, the Canadian embassy or consulate in your country will have the most up-to-date information about study permit requirements. Please keep in mind that Quebec has different study permit requirements than the rest of Canada. Visit the Quebec Immigration website if you are planning to apply to any schools in Quebec.
What Does DLI Mean?
DLI is an abbreviation for Designated Learning Institution. As an international student, you will need to make sure that your institution is a Designated Learning Institution (DLI). This means that it is approved by a provincial or territorial government to host international students. Visit the Immigration, Refugees, and Citizenship Canada (IRCC) website to learn more about DLIs and find a list of institutions.
Application Process
Firstly, if you are not a Canadian citizen or a permanent resident, you will need a study permit to obtain a post-secondary education in Canada. Typically, this is valid for the length of your studies plus an extra 90 days, so you can prepare to leave or extend your stay in Canada when you graduate.
Secondly, you are required to show an acceptance letter from a Canadian institution when you apply for a study permit in Canada. Application rules vary across institutions. Therefore, you will need to research your preferred school's application requirements. This can include eligibility, required documents, language requirements, the application process, and deadlines.
Thirdly, confirm that you are submitting a complete study permit application. If you are not sure what this looks like, then visit the Government of Canada's Help Centre for more details.
Lastly, apply for your study permit online. Applying online means that your applications are processed quicker, there are no courier fees, you can more easily review your application before submitting it, you can receive updates on the status of your application through your account, and you can submit any additional documents that they request online.
Most of the time, you must apply for a study permit before coming to Canada. However, there are unique cases in which some people can apply for a study permit from within Canada or when they arrive. Make sure that you understand which option is available to you.
Quick Recap
In the end, it is important to review everything that is expected of you when you are applying to a school in Canada and applying for a study permit. As an international student, both processes will require additional documents in order to consider your application. So read the instructions carefully before clicking the submit button!
If you are looking for more information about studying in Canada, then continue reading A Guide to Canada for Newcomers.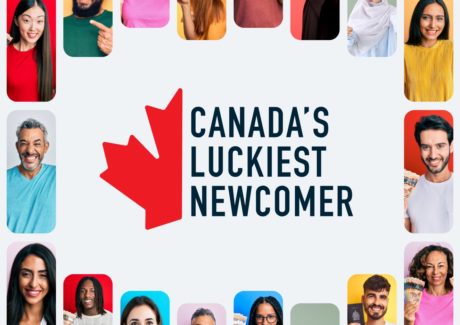 Contest
A giveaway celebrating new Canadians