Preparing to live in Canada? Welcome! Here's everything you need to know, from finding the right school to working and living in a new country.
Canada has a global reputation for being a welcoming and accepting country. In 2019, it was named one of the top 10 most diverse countries and ranked high in criteria such as "religious, sexual and personal freedom, and topped the charts for overall personal freedom." In Canada, you'll meet people from different cultures, religions, and political backgrounds, and you can feel comfortable being yourself and expressing all aspects of your identity.
It's okay if you're still feeling a little nervous about this new adventure. To help make this major life change a little easier, we put together this ultimate guide. By the end of this guide, you'll be ready to pack your bags and start your new life in Canada.
Living in Canada
You may have heard some Canadian stereotypes—that we all play hockey, that we eat tons of maple syrup and poutine, that it's always snowing—but what is living in Canada really like?
For one, it's important to note that Canada is a vast country and different regions have their own unique identity, culture, and even languages and accents.
Many Canadian cities are accessible by public transport, and you can travel around pretty affordably with a transit pass. Many people also cycle or use rideshare apps like Uber or Lyft to get around.
While most of Canada does get pretty cold during the winter months (November to February), from ice skating to skiing to snowboarding, there are many fun ways to enjoy the Canadian winter. In the summer, many cities often put on free festivals, street markets, music events, and more.
If you're hoping to explore more of the country, you can find affordable accommodation through websites like Airbnb, Vrbo, and Homestay or even look for cabin and cottage rentals or campsites to get away from the city.
Banking in Canada
There are a variety of financial institutions that newcomers can choose from. These include traditional banks, online banks, and credit unions. Here's what you need to consider when you are opening a bank account:
Monthly Fees: Traditional banks usually offer a promotional period (approximately 1 year) where you are not required to pay a monthly account fee. After this time is up, a regular fee might apply.
Transaction Fees: Be aware of transactional and service fees or limitations such as ATM withdrawals, e-Transfers, and online bill payments.
Access: Can you easily access your bank from where you live? Is there a branch nearby or is it all online?
Additionally, it is important to be aware of the terms of your bank account. Therefore, make sure that you understand what you are agreeing to when you choose a company to start banking with.
Consider Your Banking Needs
Before opening an account, think carefully about your banking needs:
Do you need to access services in your native language?
Do you need to send money back home or process transactions in your home currency?
How many transactions will you conduct every month?
Do you prefer online banking?
Are you interested in opening other accounts?
Do you just need a basic chequing account, which would allow you to withdraw and deposit money, or do you need a savings account too so you can keep some money separate?
Once you have a solid idea of what you would need from a bank, you can start researching your options.
For a more outside-the-box solution to affording all your expenses, consider a giveaway like Canada's Luckiest Newcomer, which has a life-changing grand prize bundle of cash, groceries, and more open exclusively to newcomers to Canada.
Working in Canada
Most likely, you will need a work permit to find a job in Canada. This immigration status allows immigrants to come to Canada and work for a specified period of time. When applying, do your research to understand what sort of work permit you are eligible to receive. Here is a quick list of the most popular work permits:
Intra-Company Transfer: If you work for a multinational company that has an office in Canada, your company can transfer you to a Canadian location.
International Experience Canada: For youths between the ages of 18-30 or 18-35 from 36 participating countries.
Labour Market Impact Assessment: Obtain a job offer from a Canadian employer before applying for this permit.
USMCA: Workers from Canada, the United States, and Mexico may obtain work permits in the other countries.
A work permit immigration status is temporary; however, it can help you to gain permanent status. Moreover, a work permit can make you an attractive candidate for the Provincial Nominee Programs and Express Entry.
Also, you may be eligible to apply for a Post-Graduation Work Permit (PGWP). PGWP allows you to work anywhere in Canada for any employer for up to three years after you graduate from a post-secondary school in Canada. However, if you're eligible for the permit, you will need to apply within 180 days of receiving written confirmation that you've finished your study program.
Studying in Canada
Canada is the world's second-largest country, and with over 280 post-secondary institutions to choose from, figuring out where you want to study can be a tough decision.
Studying in Canada comes with many benefits. For example, it can accelerate the immigration and permanent residence process so you can live here post-graduation. You can also bring your spouse or common-law partner with you on an open work permit, and your kids can attend public elementary or secondary school here without needing a study permit.
As an international student, you will also need to make sure that your institution is a Designated Learning Institution (DLI), meaning it's approved by a provincial or territorial government to host international students. You can visit the Immigration, Refugees, and Citizenship Canada (IRCC) website to learn more about DLIs and find a list of institutions.
Use websites like Campus Guides to compare various colleges and universities in Canada and get inside details from students who already go there.
Study Permit
Application rules vary across institutions, so you'll need to check out your preferred school's website for their application requirements. This can include your eligibility, required documents, language requirements, the application process, and application deadlines.
If you're not a Canadian citizen or a permanent resident, you will also need a study permit. This is typically valid for the entire length of your studies plus an extra 90 days, so you can prepare to leave or extend your stay in Canada.
The Canadian embassy or consulate in your country will have the most up-to-date information about study permit requirements. However, Quebec has different study permit requirements than the rest of Canada, so be sure to visit the Quebec Immigration website if you plan to study in this province.
Financial Aid
According to Statistics Canada, the average tuition fees for undergraduate international students in 2019/20 were CA$29,714 per year. Humanities courses tend to be cheaper at an average cost of $5,542, while Engineering and Medicine subjects are among the more expensive.
The average living expenses for a typical Canadian post-secondary student are roughly $12,869 a year. In other words, if you were planning to study the Humanities in Canada, you would need to prove that you could cover roughly $18,411 in tuition fees and living expenses, plus the cost of a return ticket back home, to be eligible for a study permit.
As an international student, you have access to a wide range of financial aid options that can help cover the costs of studying in Canada, including:
Scholarships. While you don't have to pay this money back, most scholarships have an application process, and eligibility criteria can differ widely.
Bursaries. Many colleges and universities in Canada offer bursaries to students who meet specific requirements.
Loans. This is another needs-based type of financial aid, but you will need to pay the money back plus interest once you finish your studies.
Student Awards is a great hub to find top scholarships, bursaries, and awards from across Canada in one place.
Final Thoughts
Canada is a fantastic place to live. From the world-class schools to the breathtaking natural sites, there is a lot to experience here. Just be prepared and do your research before you get here to make the most of your time in this amazing country.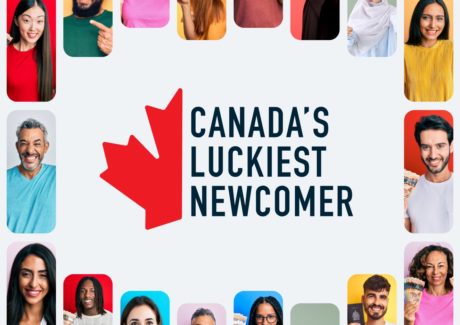 Contest
A giveaway celebrating new Canadians