Are you planning on coming to Canada? Then don't forget to pack these essential items!
Coming to Canada should not be intimidating. Canada is such an inclusive, multicultural country, that you should expect to be welcomed with open arms. However, there are things you will need to bring with you.
Before you arrive, there's probably a lot going on in your mind. What do I need? What clothes do I bring? There's too much going on to spend time browsing stores to figure out the necessities. This is your one-stop to locate the 25 key items you will need to bring with you when you make the move to Canada.
1. Essential Documents
There are a ton of documents you may be required to present in Canada, depending on your situation. These essential documents include your passport, birth certificate, marriage or divorce certificate, adoption records for adopted children, official vaccination records, medical records, educational diplomas or certificates, student transcripts, records of income, visa or work permit, and any applicable travel or immigration documentation. It is important to research what you will need to bring with you.
2. Small Travel Case
When you are travelling, there are too many documents to account for. You have your passport, your boarding passes, maybe a map, or even a list of directions. Having a travel case will allow you to carry those items in one spot. Keep it in your pocket or backpack and you will always have quick and easy access to your documents. You can even store a charger and emergency cash in there as well.
3. Wallet
Of course, you should not go anywhere without your wallet. It is where you hold your credit and debit cards, licenses, etc. However, when coming to Canada, you should also obtain a health card. If you are staying in a big city (i.e. Toronto, Montreal, or Vancouver), then it is wise to invest in a transit pass such as a Presto Card, OPUS, or U-Pass. This can be stored in your wallet too.
4. Adapters
Different countries use different outlets. Adapters are key for anyone who is hoping to use the electronics they bring from home. After all, what good are they if you can't plug them in anywhere? Therefore, whether you want to charge your phone or plug in your computer, an adapter is a necessary item to pack.
5. Power Bar or Extension Cord
This might not seem essential now, but owning a power bar or extension cord will allow you to run multiple devices from home by using one Canadian adaptor. This can make a difference when you are trying to work or study.
6. Laptop
Whether you need a laptop for school work or your job, everyone needs access to a computer. Make sure you are bringing a laptop as well as any electronics that you will use while you are in Canada. You will have access to free wifi in tons of coffee shops and restaurants that you can benefit from using when you get here. However, if you prefer to purchase a laptop when you arrive to avoid requiring an adapter, that is fine too. Just keep in mind however long you plan to stay in the country and what makes sense for your situation.
7. Laptop Case
Of course, if you are travelling with a laptop, you will need a case to protect it. Don't take a chance on breaking an expensive laptop. Invest in a good-quality case to go with it, so you know it will be safe.
8. Chargers
Don't forget to pack chargers for your phone, camera, laptop, kindle, and any electronic devices that you plan to use while you are away from home. Forgetting a charger that is unavailable in Canada will render your device useless.
9. Everyday Bag
What do you use on a regular basis? Whether you prefer a purse, a backpack, or a messenger bag, make sure you have something that you can use while you are out and about in Canada. This will be necessary for dropping off resumes or carrying your laptop around, so invest in a good quality bag that will last.
10. Reusable Water Bottle
Most people don't go anywhere without a reusable water bottle because it can keep you hydrated and save you money. Instead of purchasing one-use plastic bottles from a convenience or grocery store, you can always have access to water by buying a reusable water bottle. Simply keep an eye out for the refillable stations or ask a coffee shop such as Starbucks to fill it up for you.
11. File Folder
Keep your documents organized, so that you can access whatever you need when you need them. This includes the copies of important documents that you will be asked to submit for certain applications.
12. Funds and Finances
Depending on your situation, you may have to get your finances in order. For example, if you are coming to live in Canada, do you know how much you need to bring in settlement funds? This amount will depend on your immigration pathway as well as your family's size. Bring the amount you need and prepare to declare bringing more than CAD $10,000 if this applies to you.
13. Canadian Currency
You can always convert your money when you get here, but a lot of the time it is best and easiest to do it before you arrive. This way you have access to the correct currency the moment you land in Canada. This is also necessary if you are expected to bring a settlement fund.
14. Language App or Book
If English is not your first language, then download an app such as Duolingo to help improve your language skills. It is important to know English in Canada, regardless if you are studying, searching for a job, or travelling around the country. A language app would also work for Canada's second official language, French.
15. Prescriptions
If you require prescriptions, research Canada's laws to determine how you are allowed to travel with them. If you have the refill prescription papers, keep them with you so you can have access to those prescriptions while you are in another country. This is especially important if they are life-saving medications.
16. Seasonal Allergy Medications
Canada's weather is constantly changing, and seasonal allergies are no joke. Your eyes get watery and itchy, and your nose always feels runny. Canada has different seasons. Therefore, it is best to carry seasonal allergy medication in case there is something in the air that affects you.
17. Hygiene Products and Toiletries
Deodorant, toothbrush, toothpaste, face wash, hairbrush, etc. Whatever you use to stay clean and refreshed should also be in your travel bag. While traveling, you may want to use these products sooner than you think. Especially if you have been sitting on a plane for hours.
18. Lip Balm
Speaking of Canada's weather changes, bring items that will take care of your skin during the colder seasons. For example, it is common to deal with dry and cracked lips in the fall and winter months. Therefore, bringing a small yet important item such as lip balm can protect your lips against the cold.
19. Winter Jacket
If you are coming to Canada, know one thing: Canada can be cold! As exciting as snow is, you will need a winter jacket to get through Canada's freezing temperatures. Prepare yourself by obtaining the essential clothing.
20. Winter Boots
Yup, you need these too. The snow can get pretty high in Canada, and half of the time the snow feels like wet and dirty slush. Therefore, find a pair of boots that are taller, water resistant, and warm.
21. Winter Hats
While we are on the topic, a winter hat is key. A chilly breeze can be the cause of an earache if you don't protect your ears and head properly. Most importantly, the more warmth you can add to yourself, the better. If you really want to blend in, don't forget to call it a "toque".
22. Winter Gloves
Let's finish the winter ensemble with gloves. They are essential. At times, it can feel like your fingers might fall off. Therefore, pick up a pair of gloves that have touch screen accessibility. This means that you can use your phone without freezing your fingers off.
23. Canadian Travel Book
Even if you are choosing to stay in one place when you arrive, it is a good idea to familiarize yourself with a new culture and what to expect beforehand. A travel book about Canada can help with that.
24. Travel Insurance
Travel insurance may seem like an unnecessary cost, but it can be a lifesaver if anything does go wrong. Whether you are planning a visit to Canada or you are in possession of a temporary work permit, there are many companies that you can turn to in order to purchase travel insurance for Canada.
25. Flight and Travel Necessities
This includes your passport, flight number, gate number, departure time, boarding ticket, accommodations for when you arrive, and anything else that you have booked in advance. Keep paper copies of this information on you when you travel so that it is easy to access should you need them.
In Conclusion
Does your packing list check off all of these items? If not, then you can find most of these online or in-store — whichever is easiest! Coming to Canada can be worth the travel stress. Just be prepared for what to expect when you arrive.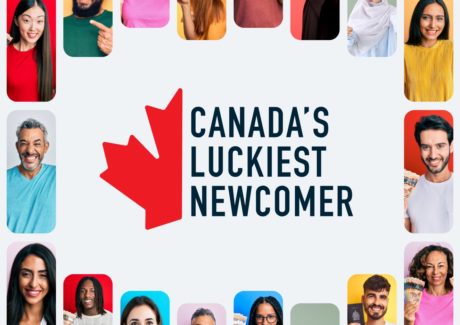 Contest
A giveaway celebrating new Canadians