Do you want to apply for Canadian citizenship? This guide will go over the process of applying as well as preparing for the citizenship test!
Applying for citizenship in Canada is a big commitment. The process requires putting together an application package, paying application fees, remembering submission deadlines, and taking a citizenship test. Let's explore the application process together.
How Do I Apply?
Excellent question. However, this answer requires a few steps, so we will break things down into sections:
Eligibility
To be eligible to become a Canadian citizen, you must:
Be a permanent resident
Have lived in Canada for 3 out of the past 5 years
Filed your taxes
Pass a citizenship test
Prove your language skills
For more details, visit the Government of Canada website.
Application Package
Based on your situation, you will need a specific application package. This will include an instruction guide as well as forms you are required to fill out. Benefit from using the document checklist so you don't forget to include anything. These are the various application packages:
Application Fees
These fees may vary if you are an adult or a minor. However, these fees can include a processing fee and the right of citizenship fee. If you are submitting multiple applications at the same time, you may be able to pay all of these fees together online. Keep in mind that you should only pay your fees when you are ready to submit your application and include the fee receipt with your application.
Submission Requirements
Double-check that you signed the application form. Also, include the date on the form the day you sign it and include the application date on your form. Send your completed application form as well as any additional documents by mail or courier as soon as possible when you sign and date the application form. If the date is 90 days or earlier from the date they receive it, your application will be sent back to you.
Regular Mail Address:
Case Processing Centre–Sydney
Citizenship Grants
P.O. Box 7000
Sydney, Nova Scotia B1P 6V6
Canada
Courier Mail Address:
Case Processing Centre–Sydney
Citizenship Grants
47–49 Dorchester Street
Sydney, Nova Scotia B1P 5Z2
Canada
Preparing for Your Citizenship Test
Want to know what will be on the test? It's all about your knowledge of Canada. The citizenship test will ask you 20 questions regarding the rights and responsibilities of Canadians and Canada's history, economy, geography, government, laws, and symbols. It will be in English or French, multiple-choice or true or false format, and will take 30 minutes. In order to pass the citizenship test, you must get at least 15 questions correct.
A great way to prepare for the citizenship test is to utilize the official study guide Discover Canada: The Rights and Responsibilities of Citizenship. This study guide is free to use and available in many formats, so you can choose to read it online, listen to the MP3 version, download the eBook or PDF, or order a paper copy.
What Do I Bring to the Citizenship Test?
When it is time for your citizenship test, bring your:
"Notice to Appear" since this asks you to take the test
Your PR card, if you have one
2 pieces of personal identification (ID)

1 must include your photograph and signature such as a health card or driver's license

Passports and travel documents (current and expired) that are listed on the application form
Certificate, diploma, degree, or transcript that proves your proficiency in English or French
Any additional documents that are brought to attention in your "Notice to Appear" letter
When the test is finished, you will meet with a citizenship official for a follow-up interview where they will test your language skills, verify your application and documents, ask questions about your application, and you will be given your test results.
Are you looking for more information? Continue reading Immigration to Canada: How to Make it Happen.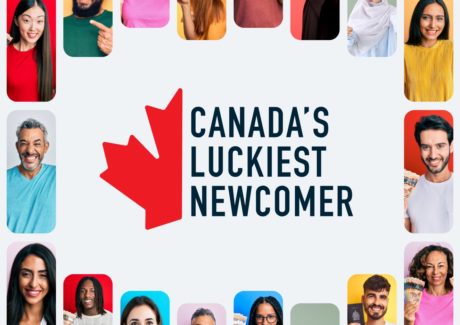 Contest
A giveaway celebrating new Canadians