Are your permits approved and your flights booked? There is still a lot to do when preparing for your move to Canada.
As you get ready for your move to Canada, there are a few things to keep in mind. From Canada's weather to upcoming expenses, it is important to research what to expect of a new country before boarding your flight. This article aims to guide you through some of these expectations.
Weather
Canada's weather may not be something that you have experienced before. If you want both sun and snow, then you can have both (with the exception of the BC coast). Most of Canada promises you snowy winters and hot summers with spring and fall seasons in between.
However, if you have not experienced the bitter cold of Canadian winter before, it may surprise you. Come prepared with the right expectations and purchase winter attire that will work towards keeping you warm.
Tipping
It is important to note that workers in the service and hospitality sectors in Canada rely on tips. Therefore, if you come from a country where these workers earn a guaranteed livable wage with benefits, be mindful that this is not always the case in Canada. In fact, most bartenders and servers earn minimum wage or lower because there is an expectation that they will earn tips. Also, many times in the service industry, staff are required to "tip out" other staff with a portion of their tips – this includes kitchen staff, etc.
Please be aware that by choosing not to tip, you are asking the server to pay out of their own pocket to serve you. Tipping is important in Canada!
Financial Preparation
Prepare yourself for the cost of living in Canada, including rent, taxes, and household expenses. Estimate how much it will cost to live where you are planning to settle in Canada because this can vary depending on the city and location.
Before you leave, find out if your home country has a limit on how much money you are able to bring with you. You can find out this information by checking with your banker, financial advisor, and/or lawyer. Also, it is important to find out how much money you need, how much money you can bring, and items that you are able to import both duty-free and tax-free.
In addition, you will be required to provide a proof of funds. This means that you will have to prove that you have the money to support yourself and your family when you land in Canada if you are immigrating as a skilled worker or self-employed person.
Job Search
Finding a job in Canada can be a lengthy process, especially if you are establishing connections in a new country. It can take months before you land a professional position, so give yourself a financial cushion. You can do this by bringing enough funds to get you through those first few months of job searching and expect to take on a non-career job while you wait.
Tip: Consider thinking and acting like a typical Canadian before you arrive in Canada. This means adopting a Canadian-format resume and being proactive about finding opportunities. For more information about job searching in Canada, read How to Find a Job in Canada.
Smoking Restrictions
In Canada, it is illegal to smoke in public places. This includes stores, offices, restaurants, shared areas of apartment buildings, etc. If you wish to smoke, you can do so in your own living space (if this is allowed by your landlord), your vehicle (unless a minor is in the car with you), in designated smoking spaces, or outside.
Driver's License
The driver's license that you currently hold may not be valid in Canada. Since licenses are awarded by individual provinces and territories, each province and territory has its own rules and testing procedures. Various countries have agreements with the provinces regarding driver's licenses, so research the rules in your chosen province or territory to ensure that you bring the correct information with you before arriving in Canada.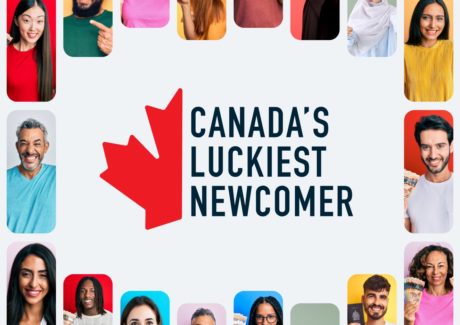 Contest
A giveaway celebrating new Canadians