Interviews that explore the narratives and journeys of Canadian newcomers in our current times.
Over the past few month's I've been documenting stories with the Canadian Newcomers Network. Our mission was to simply engage and highlight the insightful perspectives that Canadian newcomers bring through their life experiences. 
One of the first Canadian newcomers I interviewed virtually outside of Toronto was Hannibal III De Los Reyes. Hannibal was a civil engineer back in the Philippines and arrived in Canada almost a year ago, on July 17th, 2020. Hannibal joined me from London, Ontario, to share more about his journey and his hopes for coming to Canada.
Origin Story
So you are the third Hannibal in your family. It sounds like you have a little history in your name. Can you tell me more about it?
The second is my Uncle Hannibal, and then the first is my grandfather. Every time I introduce my name to people, they ask me if I got my name from Hannibal Lecter in the Silence of the Lambs. I know that my grandfather is older than the book and movie, but I don't really know where he got the name Hannibal from.
Hannibal, tell me about your life in the Philippines?
I'm from Iloilo City in the Philippines, but I grew up in Boracay, a famous island. It's really beautiful there, I grew up near the beach, and I loved swimming. I remember my young self being tanned all the time.
I'm the second eldest in the family, and I have one sister and two brothers. My parents were not always at home because they were always busy working. The only time that we bonded together was on Sundays when they didn't have work. My parents taught me how to be more independent and not rely on others, and I think that's one of the reasons I'm here, and I'm still surviving.
My parents separated during my first year in college, and it was hard because I saw my mother struggle since I was young. We grew up poor, but I'm lucky and blessed to have my mother, she worked hard to send us all to college, and now that I'm here, I can also support my family.
Are there any fond memories that you have from back home?
I don't remember many of the life experiences that I've had, but I always tell this story to my friends of the memory I had when I turned seven. I mentioned that I grew up poor, so the first time I celebrated my birthday was when I was seven years old. I was just shocked that day that my mother was very busy and that there's tons of food and people coming over to our house. That's the first day I learnt about my birthday, and it felt it felt new to me. After that, it gave me something to look forward to every year.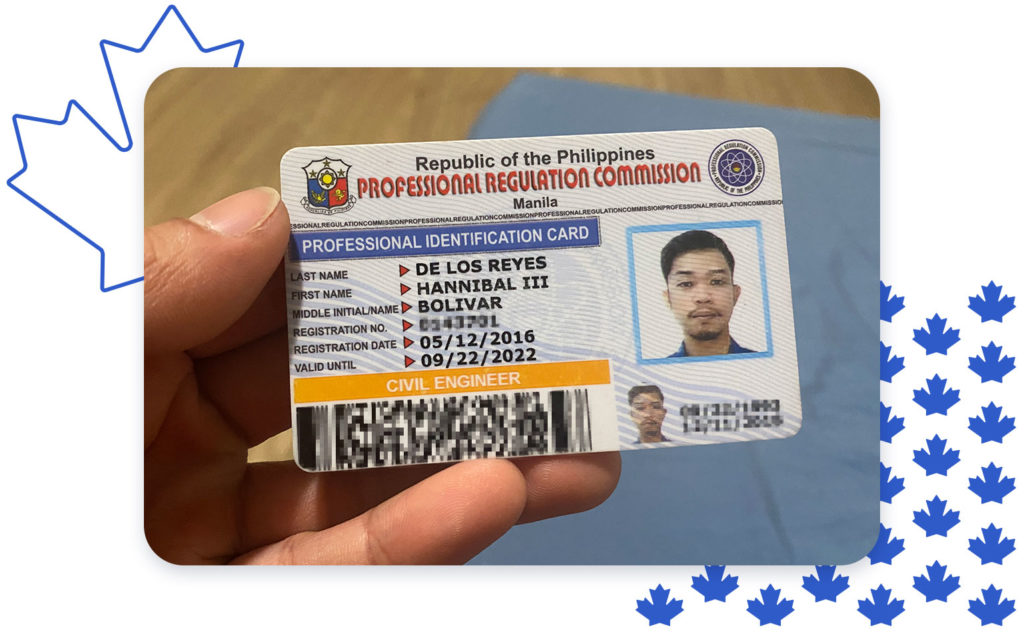 Hannibal, can you tell me about the significance of this photo you shared with me?
I studied civil engineering for five years, and another year I spent reviewing to get my professional licence. I got it in the second take as the first time the exam was actually quite hard. After getting the professional licence, I worked for a year as a precast engineer and then went on to work for a big company in the Philippines as a land development engineer and then a production engineer.
Right now in Canada, I'm studying carpentry and renovation as a pathway to get my permanent residency. I keep this license as a reminder that if I can make it back home, I can also make it here.

Migration
When did you make the decision to come to Canada to study?
To be honest, I didn't initially have any plans of coming here. It was 2019 when I talked with my brother, who's in the United States, and we spoke about my dreams and goals for the future. He brought up the idea to come to Canada, but I didn't have enough savings to make a move. He told me not to worry about the expenses and said that he would lend me the money to come here.
I took the IELTS exam and passed, which meant that coming to Canada was a reality, and I had to choose a school. I decided to go to Fanshawe College to take construction project management until the pandemic happened and my program got delayed. That gave me some more time to decide what programme to take. After researching more about the immigration process, I learned a better pathway for me would be to pick up trades, so that's why I'm not studying carpentry and renovations.
Hannibal, how has your experience been transitioning into Canada?
It's been very humbling. I'm saying humbling because I was a civil engineer back home, but here I've done a lot of stuff that I wouldn't imagine doing back home. I worked as a cashier and a cook on a food truck. I also worked as an uber driver, using a bicycle. I've also worked at Wal-Mart, which was on my bucket lists because I wanted to experience the yellow vests they wear. I couldn't get that yellow vest because I was assigned as a produce associate, so what I wore every time I work there was the green apron. These were all fun experiences.
Tell me about the significance of this picture?
The importance of this picture is a reminder to always be humble. As I mentioned earlier, everything I've done and experienced here in Canada has been humbling. I improved my customer service skills at Wal Mart, and I'm proud of that. I've also learned a lot about fruits and vegetables from working in the produce section, and I can tell you the name of an apple just by looking at it or touching it. I've learned a lot of new skills, and it's all been a humbling experience.
Hannibal, I really appreciate how you've looked at the positive side of every experience you've had. Are there any challenges you've faced with the transition here?
I'm working in a landscaping company; it's been a challenge for me because I've never done any labour work before arriving here. It's a challenge because my body is very sore right now, but I don't mind it at all. I have this goal in my mind right now, a promise to my mother. Everything that I do here is for my mother and for my family. After a few years, I have this plan and goal that I want to bring my mother here to experience Canada and what Canada can offer to the world. It's very different from the Philippines, but I believe long-term Canada is one of the best places in the world.
It's really admiring how you can take a question on challenges and turn it into something truly inspiring.
What are your hopes and aspirations for building a life in Canada?
To be honest, my hopes are more of a selfless goal, as I mentioned before. I want to build a good life here to bring my mother because she dedicated all her life and time to raising us, and I want her to have a good life. She always says that when she comes here, she wants to work, but my plan is that I don't want her to work, and I just want her to enjoy life here. It's a plan that both my brother and I have. We just want her to be happy and experience the best life that we can offer to her.
Hannibal, I really appreciate hearing your mother's impact on your life and how this entire journey is dedicated to your mother.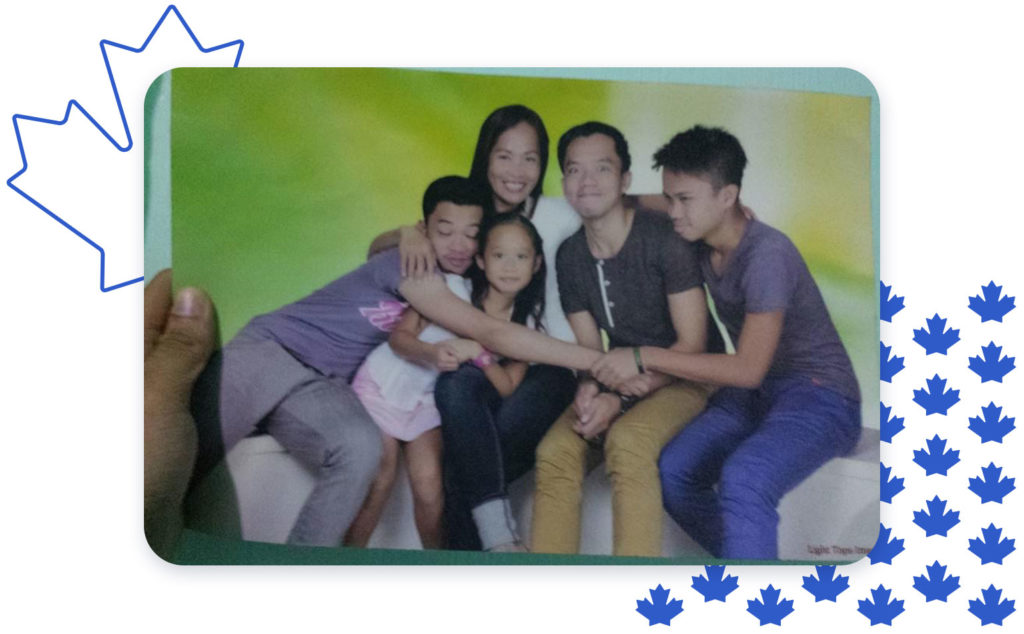 Tell me about this photo that you've shared with us.
This photo was taken in 2018, I think two weeks before my older brother left for America, and I think that's this is our last family picture. Our personality really shows here. I came down here during the pandemic, which has been challenging. Still, the excitement was that I would be able to experience the Canadian dream. My family has been very supportive of my move here.
Do you have any thoughts on Canada since coming here?
I think people here are introduced to responsibility at a very young age, which I admire about Canadians. You can be whoever you want in Canada. There's no judgement here. I feel Canadians are really well-skilled and just nice people overall. I also admire how things are governed here. I think the government here is doing a great job with health care, the rules and the laws.
I'm curious if you had any advice that you could give to another Canadian newcomer; what would you tell them?
I always say not to be choosey. Accept what other people offer you if it's a job or an opportunity. As a newcomer, it's actually very challenging. I was a civil engineer back home, but I had to start from the bottom over here. So as a newcomer to grow, I accept what people offer me.
Before We Wrap Up…
What would you do if you were to win Canada's Luckiest Newcomer contest grand prize of $20,000, presented by CIBC and the Canadian Newcomers Network?
A bunch of stuff, I would use it to pay my tuition. I would save it or part of it and then donate some to the church. There's a church that is our support group here, a Filipino community church. It's a Christian Christian gathering. So. Coming here to London, they made my life easy because they always checked on us. They made sure that we had what we needed for the winter. We came here empty-handed, and the church actually made our life easier here in London. So, when I win, part of it, I would donate to the church.
Is there anything else you would like to share with others who may be reading your story?
As a newcomer, just be yourself. There's no judgement here. Always look back at everyone or everything that helped you be who you are and since you're here in Canada, make sure to have fun.
---
As I reflected on Hannibal's story, I'm reminded that the colourful fabric of Canada is woven together by the many multicultural identities built by resilience, hard work and dreams. Stories like Hannibal's remind me that Canada is stronger today because of Canadian newcomers who bring the wealth of their experiences and diversity to make Canada a better place.
---
This Canadian Newcomer Story is produced by The Canadian Newcomers Network and SNCD Media, created through a storytelling process by Sid Naidu.
Sid Naidu is an international development advocate & documentary photographer who uses visual arts and storytelling to create social impact. Instagram / Twitter