Interviews that explore the narratives and journeys of Canadian newcomers in our current times.
Chloe Cayabyab grew up in Iloilo City in the Philippines. She cultivated her passion at a young age and is socially engaged with global development issues. She arrived in Canada in August 2019 to study International Development at Centennial College in Scarborough, Ontario.
I had met Chloe when she first started the program at Centennial College and quickly witnessed her strengths as a young leader. She has made great strides in her studies and extracurricular involvement to raise awareness and engagement with the international development sector and the United Nations sustainable development goals.
Recently, I got an opportunity to talk to Chloe to learn more about her journey and what brought her to Canada.
Origin Story
Chloe, tell me a bit about yourself?
I'm twenty-four years old, I'm from the Philippines, and I'm currently an international student here in Canada. I completed a postgraduate program in international development that sparked my interest in gender, development and working in developing countries, commonly known as the global south.
I'm now about to complete a research analyst postgraduate program to enhance my monitoring and evaluation skills for international development. I also have two jobs and one internship. I'm a research associate for Western Centre for Gender-Based Violence, a research assistant for Humber College and an intern for World Renewal. I love to be busy and do work with gender and research.
That's definitely an important focus and much need in the world. Were you always interested in international issues and social change?
I have a bachelor's degree in foreign service from the Philippines and worked for my city's international relations and political office. Through that, I worked with many foreign dignitaries, ambassadors and partnerships doing research and politically related work.
Even though I did work for the government in my country, It's tough to make a significant change in politics the way you can over here in Canada. If you say something, you could either be silenced or have your life threatened. Since I was a very vocal person who voiced my opinions, things are better for me here.
I'm always interested in learning about different parts of the world, so tell me about where you grew up in the Philippines?
I grew up in Iloilo city, which is known as the city of love in the Philippines. The Philippines is a very hot country, and we lived twenty to thirty minutes away from the beaches, which I loved, so I'm a tropical girl. I lived with my mom and my two other siblings. Growing up was very fun when I was there. We had a simple life, nothing too extravagant. We were able to buy the things that we needed to buy, and we had each other as a family. I had my struggles, but I found life there really fun, enjoyable and just relaxing. I would say that Iloilo city is my comfort zone, and after leaving, I definitely grew a lot.
From what you've mentioned, I feel like you have a close connection with your family.
I love my family, and I miss them. My mom is my rock. She is the one reason I am here today because she wanted me to find better opportunities in another country. My mom has been sacrificing just to help us get by, and she's been doing that alone, so whatever I'm doing right now, I'm doing it for her.
My mom is a bank manager back home in our city. My brother and sister are both in the medical field. My sister is a nursing student, and my brother is a pharmacist. You know, the usual notion for any Filipino household is that either you're going to take premed or nothing, or you're going to be a doctor or an engineer or nothing. My mom was far from that; she allowed me to go into social research.
I'm very close to my siblings, we are a tight-knit family, and we loved spending time together. I would do anything to just get from here and hug them after years of not seeing them.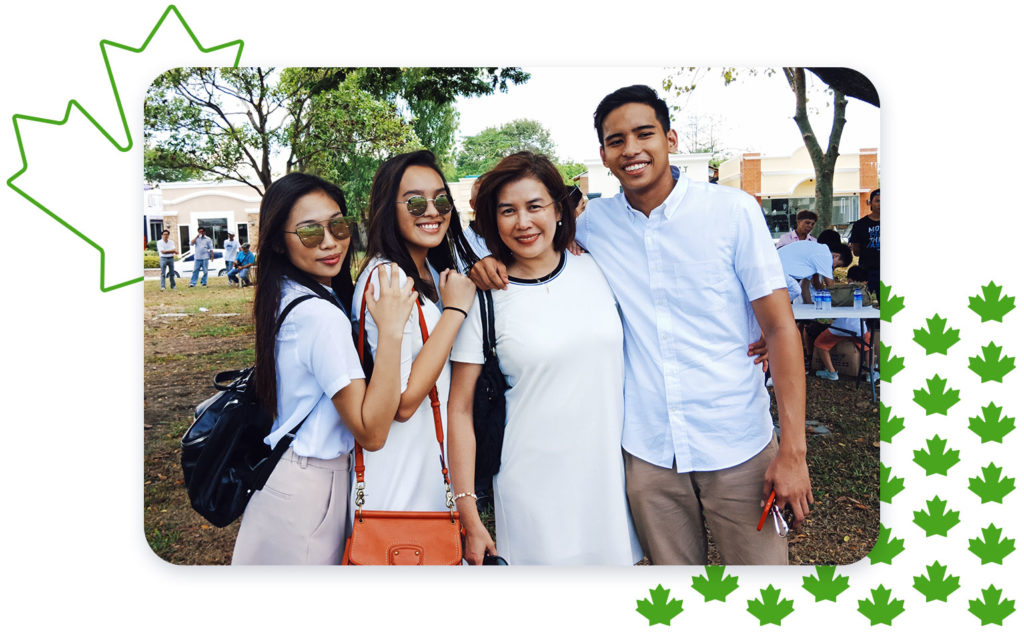 I sense that you've learned quite a bit from your mother. How has she influenced you as a person?
She's actually one of the wisest persons I know, she's a strong, independent woman, and she has always taught me never to rely on the guy. It sounds cliche, but culturally in the Philippines, there is a belief that women are restricted to the household to just do housework and raise kids. My mom did both herself, she went to work, and she raised us.
So she wanted me to do the same, be strong and never let anything other people say bother me. So she gave me that strength and confidence to believe in myself and to pursue what I love.
My decision to leave the country was also definitely influenced by my mom. This is one of the most significant things that have happened to me. I probably would have been okay with life over there and not gone beyond my comfort zone to find greener pastures. This decision to leave really defined me, my strength and my development as a woman being on my own in a different country.
That's Amazing! One of my favourite quotes to live by is "The world begins where your comfort zone ends," and I can fully understand how this big decision has helped you grow as a person.
Migration
After pushing outside your comfort zone, Chloe, when did you decide to leave the Philippines?
When I was twenty-one, I went to the United States. I stayed in Los Angeles for 3 months because I was considering doing my master's. My mom saved up a lot for this trip, and it took us years to go as a family because it's not cheap. I stayed behind for a few months after my family left. That was the first time I was actually ever alone in a different country. That was when I decided that I wanted to be somewhere else and not in the Philippines. I learned a lot about myself during this time.
I also learned from other immigrants who started from nothing and worked as caregivers or waiters just to get by. I know many Filipinos who are caregivers in California, and I learnt from their hard work. I even considered being a caregiver just for the sake of opportunity. I find it really honourable to see people who would do anything to help their family progress. Learning from these direct encounters with other immigrants has definitely inspired my own immigrant story.
That's a powerful reflection Chloe, and I have to ask why did you choose Canada?
Cost-wise, living expenses, educational expenses and your tuition in California were insanely expensive. When I found the international program here in Canada, I fell in love with the curriculum. I also heard many good things about Toronto and felt the opportunity would be the same if I had the courage to make the most out of any work. That's what I felt like I had to do, and that's why I chose Canada.
What was a challenge you faced as a Canadian newcomer?
I would say it was challenging to find my first job with no Canadian experience. Even though I worked for the government in the Philippines, it was a rough transition to even find jobs when it didn't align with your experience. My first job here was as a personal shopper for the Real Canadian Superstore. It took a lot for me to process that, and I didn't want to do it at first, but it was one of the best experiences, and it really taught me a lot about starting from scratch. I remember the struggle; it was tiring doing eight hours a day while doing full-time school. I felt burnt out, but it was worth it in the end.
So what kept you motivated through this transition
Everything I do here, I keep in mind that I want to do it for my family. I want to help my family the same way that they've helped me. It was a lot of sacrifices for me to get here, but I would not have been able to do it without them. I do want them to come here with me, so I don't mind suffering for a few more years just to be able to get them here.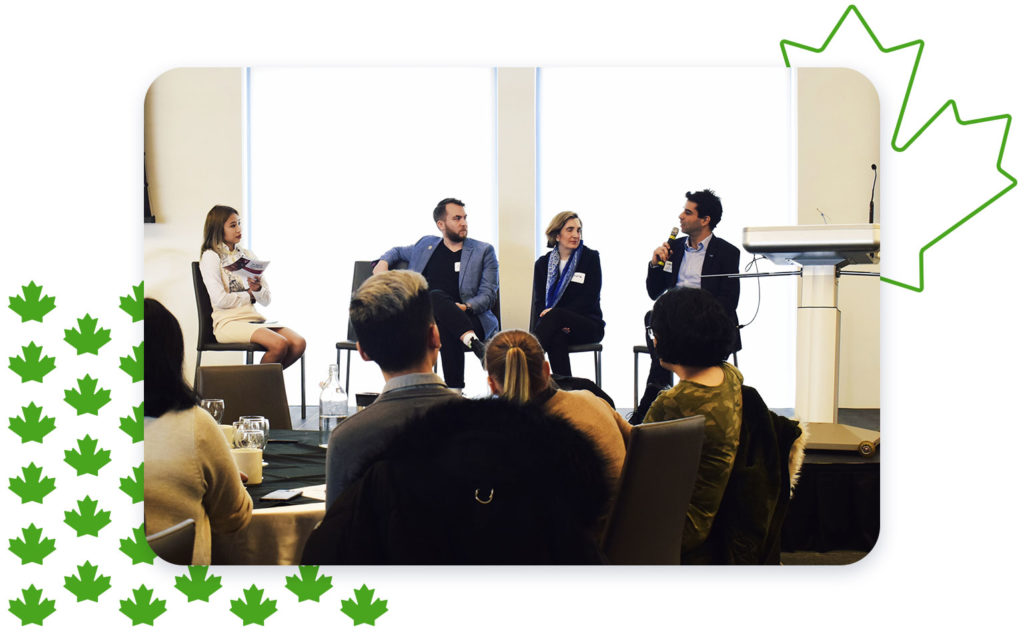 Chloe, tell me about the significance of this photo your sharing with us?
This was my first time speaking publically in front of people in Canada for the International Development Week at Centennial College. I've always been doing public speaking. I've hosted events back home in the Philippines in English, but this was a different experience because I felt challenged by the language.
I was afraid I wouldn't be able to communicate my thoughts or the questions correctly. So this is significant because it really helped draw people's attention to me and my potential as an international student and communicator. I learnt a lot from leading and hosting International Development Week. Being given the responsibility to moderate this panel really developed me as an individual and made me want to do more things of this nature.
Hopes & Aspirations
What are your hopes and aspirations for building a life in Canada?
If I had to be job-specific, I would definitely want to work for an international organization or Global Affairs Canada researcher or analyst. I'm also considering data science because I fell in love with research and data analysis through my current program. For my aspirations in Canada as a whole, I want to earn enough to buy a car and get my own place for my own family. Eventually, reap the benefits, and bring my family from the Philippines here as well.
So Chloe, do you have any thoughts on what it means to be Canadian?
I never thought of it as a whole concept of what it means to be Canadian, but for me, to be Canadian is to be open to diversity and be welcoming. To be vocal towards the government and open to immigrants, I feel like that's a big deal here. Canadians actually make an effort to pronounce my last name. I never felt that honour before, and I would usually just dismiss it. Still, people here actually make an effort to pronounce my last name. So I feel like when you're Canadian, you're just open to diversity. To be Canadian, I'm reminded of people who are very conscious and aware, people who further human rights and have that embedded in their minds and in their operating system.
That's a great answer. It gives me a sense of pride as a Canadian to know and believe that diversity is genuinely accepted here in Canada.
Chloe, I'm curious, if you had any advice that you could give to another Canadian newcomer, what would you tell them?
I would definitely tell them to ask for help. It's not easy, and we want to be independent, but there are many resources and a lot of people who are willing to help you. The only thing you need to do is to reach out, and of course, I would tell them to be strong and be prepared for the challenge that comes your way. Be prepared to take any job or any opportunity that comes your way. Regardless of the path you take, you will get somewhere if you're in Canada.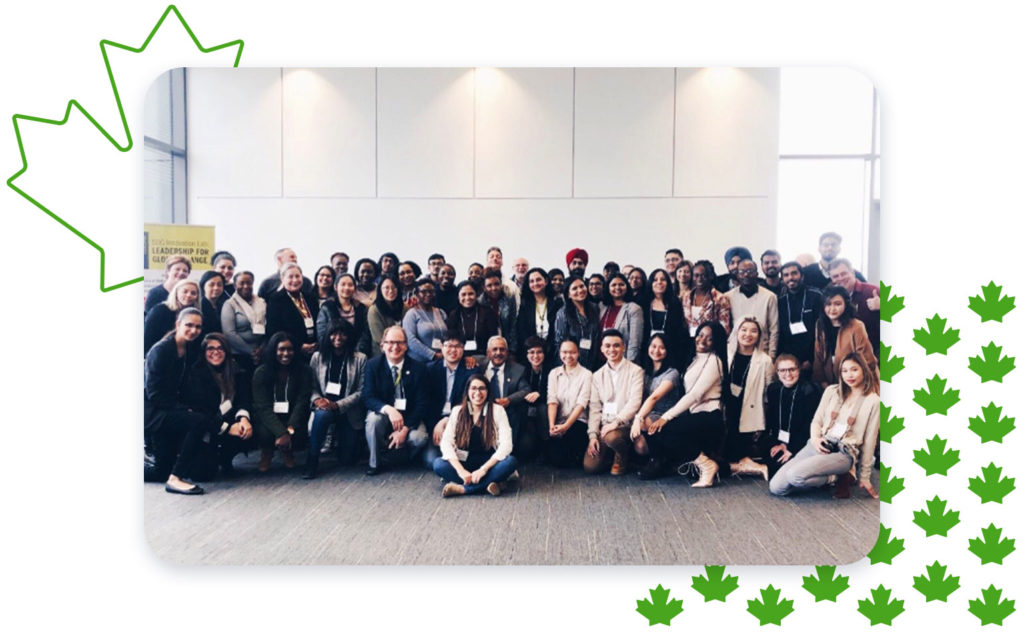 Chloe, tell me about the significance of this photo your sharing with us?
This was the first-ever Sustainable Development Goals Forum at Centennial College in partnership with the Foundation for Environmental Stewardship. This was my first event as an innovation lab ambassador. My interests are always aligned with sustainable development goals. Being able to do this event took a lot of energy and time.
It has shaped me as an individual in terms of leadership and management. I was able to network and see how people think about how their own aspirations and goals are aligned with the United Nations sustainable development goals. I like events like this that get you to think and interact. It got the students to do something and engage themselves with important causes for global development. I think raising that level of awareness and action was what I found most significant about this event, which is why I decided to share this picture.
Before We Wrap Up…
What would you do if you were to win Canada's Luckiest Newcomer contest grand prize of $20,000, presented by CIBC and the Canadian Newcomers Network?
That's a challenging question because I would need the money myself. Still, I would also want to go back to the community in the Philippines to use a significant amount to help the indigenous population there. It's a cause that I have been passionate about. Because they've been neglected by the government, I definitely would help here as it's close to my heart. I would also help my family and friends who are struggling financially, so I would use that money for a good cause and then invest in it to grow.
Is there anything else you would like to share with others who may be reading your story?
Go for any opportunity that's given to you. What really helped me was translating my energy into skills. To help myself stand out, I spoke to people, approached people and felt this the best way to go forward. Overcome your fear of talking to people because it will get you somewhere. Just keep pushing for whatever goals you have and always have them in mind but also look back to where you came from because that will keep you grounded, and that reminds you of why you came to Canada. 
---
As I reflected on Chloe's story, I'm reminded that the colourful fabric of Canada is woven together by the many multicultural identities built by resilience, hard work and dreams. Stories like Chloe's remind me that Canada is stronger today because of Canadian newcomers who bring the wealth of their experiences and diversity to make Canada a better place.
---
This Canadian Newcomer Story is produced by The Canadian Newcomers Network and SNCD Media, created through a storytelling process by Sid Naidu.
Sid Naidu is an international development advocate & documentary photographer who uses visual arts and storytelling to create social impact. Instagram / Twitter