Interviews that explore the narratives and journeys of Canadian newcomers in our current times.
When I finished school, my dad told me that I need to find my place under the sun. So I think I'm still finding my place under the sun, and maybe it's here in Toronto.
Gonzalo Santos spent most of his life growing up in the Philippines, born and raised in Quezon City, northeast of Manila. He arrived in Canada almost two years ago, in August 2019, and today is currently working as a coordinator in a non-profit
Having originally studied medical laboratory science and nursing, Gonzalo took an alternative career path in the Philippines by teaching and working in entrepreneurship. When he started working with social enterprises, he wanted to have more impact, and that's when he decided to study and pursue international development.
I first met Gonzalo when he first arrived in Canada as an international student at Centennial College. After catching up with Gonzalo on an after-work Zoom call, I got a chance to learn more about his story, the causes he believes in and his journey as a Canadian newcomer.
Origin Story
Gonzalo, tell me a bit about your life?
I've spent my whole life in the Philippines for 34 years. My parents both met at the hospital, my dad was an anesthesiologist, and my mom was a nurse. I have three brothers, we have our ages very close, and it was just fun. We had the same sense of humour; we watched the same movies and played the same video games. I had a very healthy family life growing up.
It had its ups and downs; there were times when there were challenges, obviously, like financially or whatnot. But I feel very lucky because I have very healthy relationships with all my immediate family.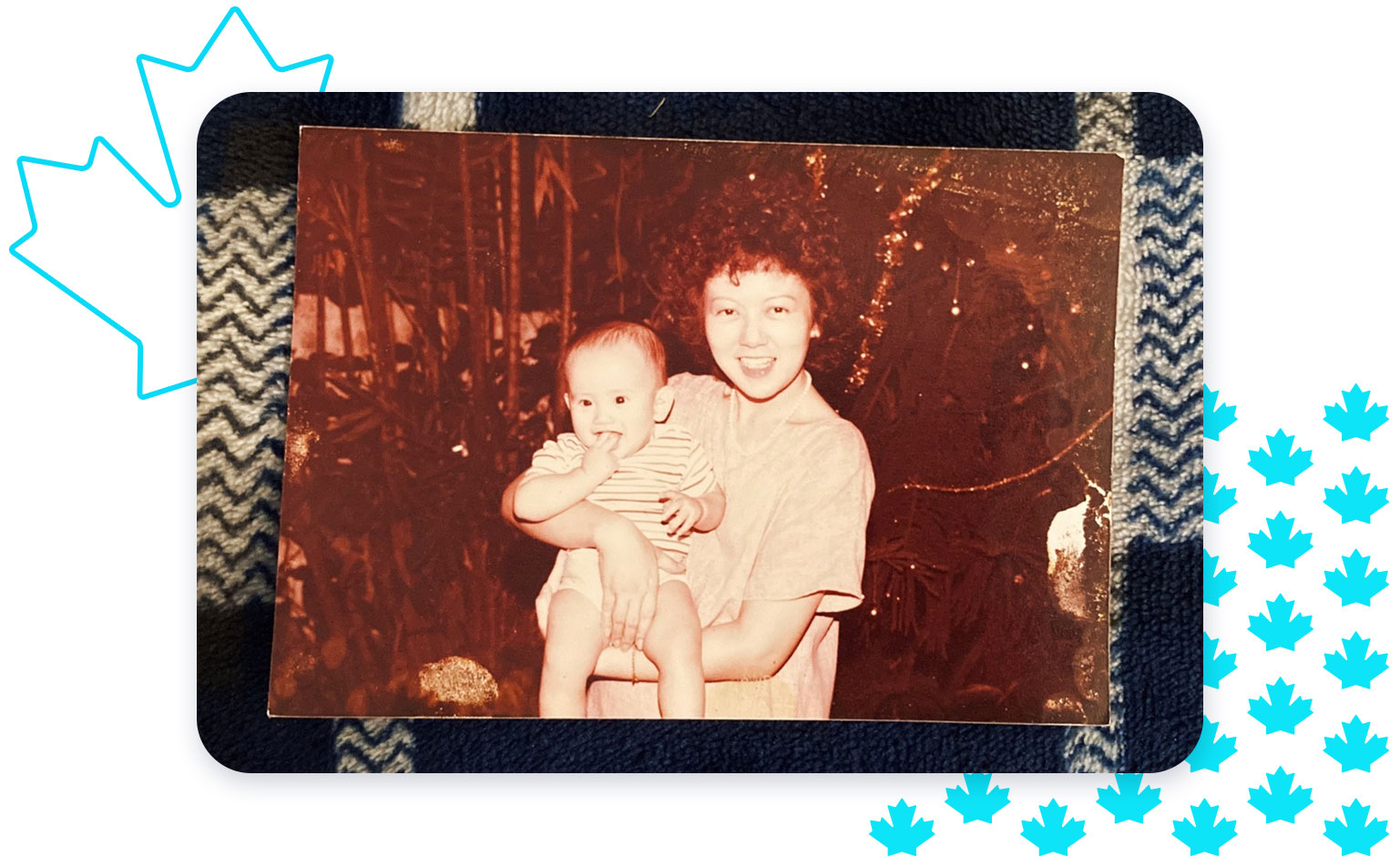 Tell me about this photo you brought to Canada?
A lot of my mom's personality, like shyness, I feel I inherited. Still, I've seen her step out of it by becoming more outgoing and assertive. I feel like I'm a lot like my mom in this way.
What's one advantage you noticed back home?
In the Philippines, you're always around your family, which is nice; you don't feel alone. I think here in Canada, sometimes it's easy for people to do their own thing and be lonely; that's what my observation has been. It's harder to be lonely in the Philippines just because you're around family so much.
And one of the challenges?
The Philippines is top in Southeast Asia in terms of corruption levels. Many systems suffer, and it's really the people who pay the price. Things slow down, roads have poor materials, and resources don't go where they are supposed to go. It really takes a toll on the quality of life.
What was your favourite thing to eat growing up in the Philippines?
Fried chicken, that's my favourite. I have been vegan for like for eight years now, so I get the vegan version of fried chicken.
I can also make a mean vegan adobo. Adobo is a mainstay in Filipino food. It's a vinegar-based dish usually made with chicken or pork; there's a version with mushroom and tofu, and sometimes veggie meat.
Being vegan in the Philippines? Tell me more?
When I started in 2013, there weren't a lot of places. It was challenging to get anywhere unless you made your own stuff. But over the years, there's been exponential growth for veganism.
Was it hard making that transition to veganism?
I made mistakes in the first few months because a lot of stuff in the Philippines is laced with meat or has a meat broth, but it wasn't hard for me.
It's one of the best things I've done in my life, to be honest, just to know that I'm not harming animals.
What other causes inspired you when you were in the Philippines?
I was really inspired by some of the people I was working with. My partner was also working with social enterprises and supporting different communities. I was motivated to get out of my traditional business background. It pushed me to study international development, where I'm now working in non-profit supporting refugees.
For me, it's about social justice, I did a lot of advocacy in the Philippines for animal rights and the LGBTQ+ community, and those are things I believe in.
Migration
So tell me about your journey to Canada?
My brothers and I are very close, and we have talked about how unstable the Philippines has become recently. We've been thinking about being somewhere else as a family for some time now. Then a few years ago, I had some space to actually apply to Canada and give it a try. I was as old as I wanted to get before moving to another place, so I felt like it was a good time to try.
When I came to Canada, I came with my brother. We wanted to see if there was a life for us here. My brother decided to go back to the Philippines after a semester in school.
What happened?
My brother got his acceptance and visa much later. I had already booked a room at the college residence, and there was no more space for him. So we were living separately. He was studying and living in Midtown. I didn't get to see him so much except during the weekend sometimes. My brother is older and has very strong ties and social circles in the Philippines. He didn't have the same connection over here and found it harder to access opportunities.
So it was just you in Canada?
I have family in Canada, but they are much further out in Halifax and Prince Edward Island. I decided to stay in Toronto because it would be better for opportunities.
When I finished school, my dad told me that I need to find my place under the sun. So I think I'm still finding my place under the sun, and maybe it's here in Toronto.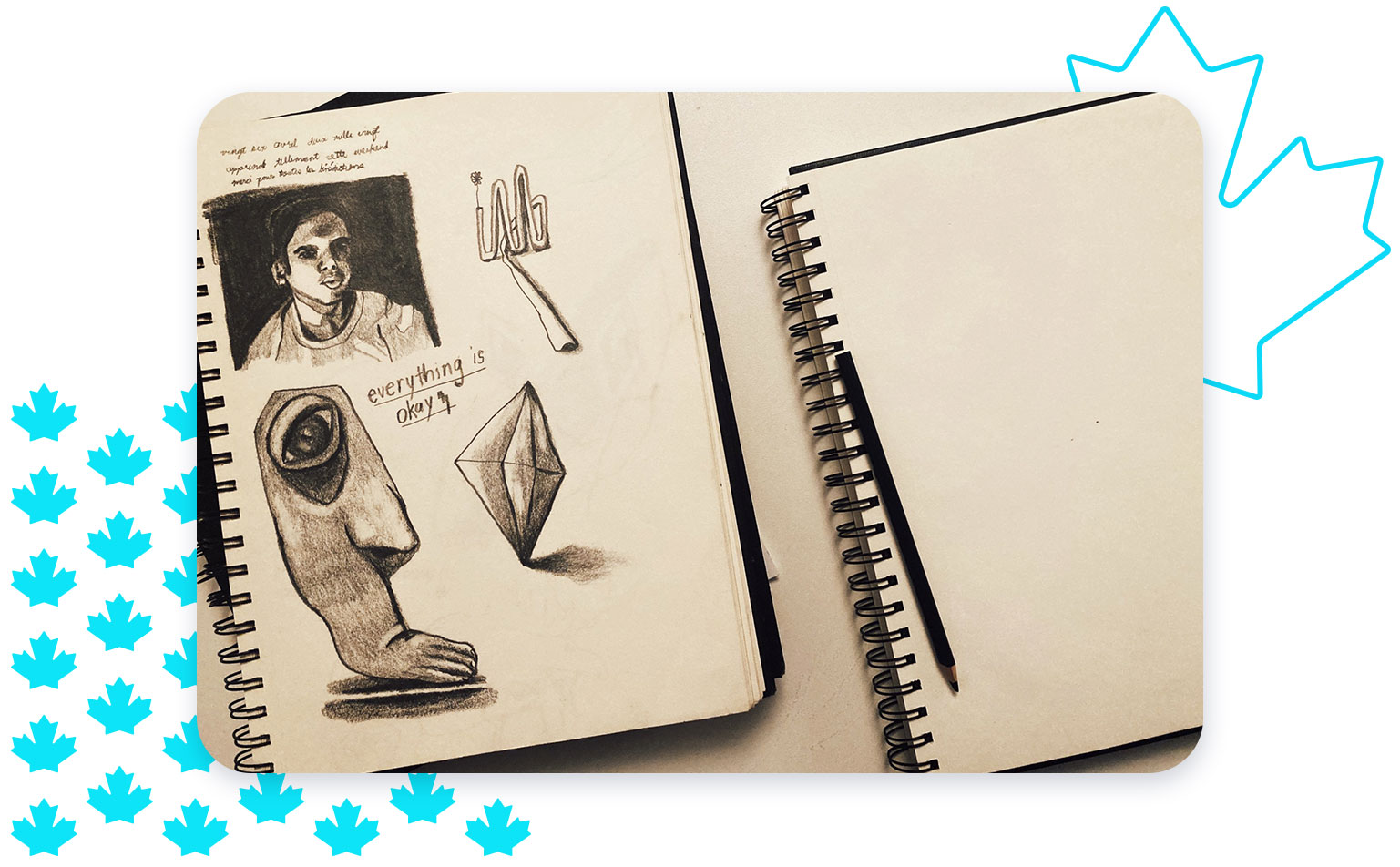 Can you tell me about these journals you been keeping with you since coming to Canada?
Every day I try to just write some things I'm thankful for. In this journal, I said I'm thankful for the weekend and for all the blessings; it could have been for a coffee or a nice chat with a friend. This process helps set the tone for the day, and it's nice to look back on it.
I also like to just draw something or play with a pencil or colour, just to feel that I use another part of my brain, and I think it completes something in me. I feel like I would be doing art full-time in another life. I don't think that's available for me right now, but I also see that as a possibility for me in the future.
I'm sure there are challenges you faced as a newcomer; what are some that you've encountered?
I didn't know anyone here in the city and didn't have friends when I first came here. I've built a life for myself for over 34 years, so I didn't have a social support system I had there.
There's a lot of uncertainty, and I think that's something many newcomers can relate to. You don't know what will happen to you, and I think that's part of what makes newcomers fight a little harder.
There are other limitations, but more than anything, it's the uncertainty that I have I've had to learn to really put aside and let go of.
How have you been navigating the new normal in our current times?
Having discipline and a routine helped me so much, like waking up at a particular hour, eating healthier and making sure I get some fresh air. Through the winter, I was also able to play tennis when the parks were open, so that did help to balance out some of the anxiety. I also try to meditate, even if it's just for five minutes; it really helps me visualize things.
If you could give any advice to Canadian newcomers, what would it be?
Do more research and plan well. Plan very well on where you're going to live, how you're going to live and what jobs are in demand. Plan what program you're going to study, where you want to work and what organizations you want to work for.
Be very specific in your plan because it could save you a lot of time, it can save you a lot of money and a lot of stress if you just plan better. So get clear on that.
Hopes & Aspirations
What have you learned about Canada so far?
The diversity in Canada is one of the things I love the most. I love seeing people from all over the world, and I feel Canada has more diversity than anywhere else I have been.
Do you have any thoughts on what it means to be Canadian?
There's kindness and humility to being Canadian. There's more openness, and it feels like we're all here to help each other, and I think that's an excellent way to be
I'm curious to know your hopes and aspirations as a Canadian newcomer?
I came here to see if there was a life for me here, and now I would love that option. My goal is to be here and live here.
I have been studying French since I got here, and I think I am getting more comfortable. I'd love to bust out a "bonjour," maybe in Quebec City. I'm having so much fun learning French, and I feel like there's also a possibility that I would love to just immerse myself somewhere to learn the language.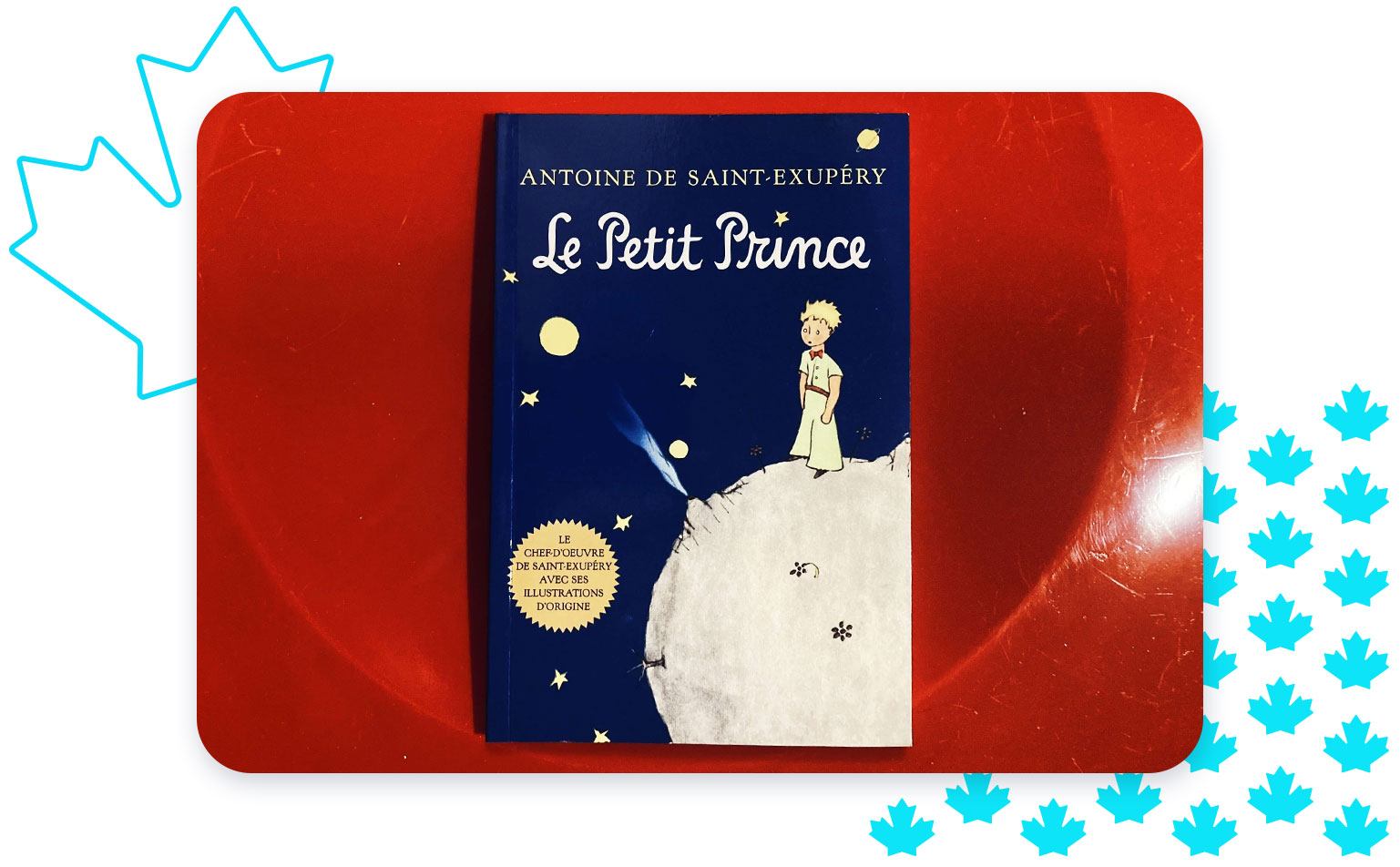 You shared this French book that you are currently reading.
Yes, The Little Prince by Antoine De Saint Exupéry. This version is in French, and I've read the English version many times. Each time I've read it in English, I found something new that I liked. I am reading this, and I don't understand everything yet in French, but it's familiar to me yet foreign. I love that the original book is actually French, and I love the drawings. There are so many things here that are like little gems. I know as I learn French, and like I honestly, I'm having so much fun learning French all the time, the more I read this version.
Before We Wrap Up…
What would you do if you were to win Canada's Luckiest Newcomer contest grand prize of $20,000, presented by CIBC and the Canadian Newcomers Network?
I want to invest in businesses here, businesses with a social impact. When I'm able to, I want to do my own projects aligned with my values, whether vegan food or the arts. That's what I would do.
So tell me, Gonzalo have you found your place under the sun?
I think this is my place right now, and you know things can change tomorrow, but for now, this is my place.
---
As I reflect on Gonzalo's story, I'm reminded that the colourful fabric of Canada is weaved together by multicultural threads of resilience, hard work and dreams. Stories like this remind me that Canada is stronger today because of Canadian newcomers who bring the wealth of their experiences and diversity to find their place under the sun.
---
This Canadian Newcomer Story is produced by The Canadian Newcomers Network and SNCD Media, created through a storytelling process by Sid Naidu.
Sid Naidu is an international development advocate & documentary photographer who uses visual arts and storytelling to create social impact. Instagram / Twitter