Interviews that explore the narratives and journeys of Canadian newcomers in our current times.
João De Franco was exposed to the world at a young age while growing up in the cosmopolitan melting pot of São Paulo, Brazil. He arrived in Canada 5 years ago, in April 2016; he is currently working as a communications officer with Global Affairs Canada.
Having first studied international relations, João travelled across Brazil, covering events and demonstrations as a photojournalist. Being exposed
I first met João while studying in the international development graduate program at Centennial College. We immediately connected with our experience as photographers and continued building together through school projects. I got a chance to catch up with João on a Saturday morning Zoom call. It was exactly five years on the date when he landed in Canada that he shared with me his story and journey as a Canadian newcomer.
Origin Story
João, tell me about the origins of your name?
Do you have time? My full name is João Luis Szajnferber De Franco Carneiro. This name represents my Polish, Italian, and Portuguese heritage.
The Polish part of my name, "Szjanferber," is from my mother. Her family had come in before the first world war to Bahia, the Northeast region of Brazil, which was and still is one of the poorest regions in the country.
The Italian part of my name, "De Franco," and the Portuguese part of my name, "Carneiro," is from my father.
Put this all together, and I ended up having a hard time filling up documents with my name over here, so you know me as João De Franco.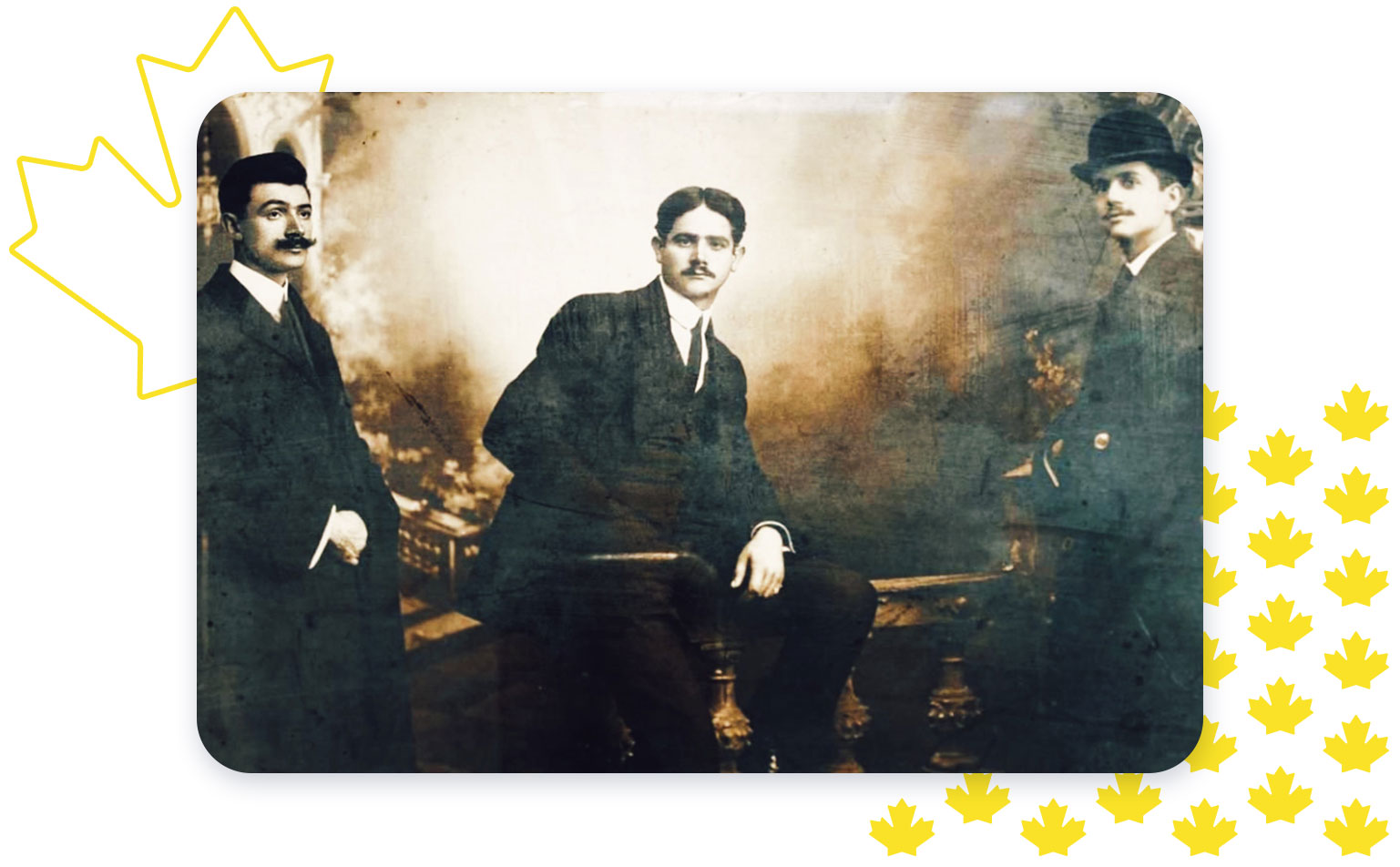 Tell me about this ancestral photograph you shared with me
This is a picture of my great grandfather Miguel De Franco who came to Brazil with his three brothers. They came from Italy before the second world war. Their ship capsized somewhere along the coast of Africa, and they took another one which arrived in the Southeast part of São Paulo, where I was born.
What was your life like in Brazil?
I was raised in São Paulo, the biggest city in South America and one of the five biggest cities in the world. I grew up in the suburb Alphaville with two brothers and one sister. My father had a good education, and we all went to private schools. My mother would stay at home, so I'm really connected to my mother, especially since I'm the youngest.
Being Brazilian, soccer is a part of our culture, so it was embedded in me. I also grew up doing a lot of skateboarding. My family had a house by the beach, and I would go there a lot growing up. I spent time learning to surf there with my father and brothers. Life was good!
Would you say you grew up with a lot of international influence?
My father was an army engineer and travelled a lot for work, so I would say I was born learning about globalization and the idea of living abroad.
My influences came from all over the world, and the biggest influence on me came from North America. For example, my sister bought an Alanis Morissette CD, so I would go to school at 13 and listen to Jagged Little Pill. I grew up listening to Guns N Roses, Bob Marley and Peter Tosh.
We would also have international students coming to my house through a Rotary Foundation exchange program, so we received many people from around the world. I will tell you that the Canadian students were the best; they were the most polite and the most open-minded.
So when did you start pursuing photojournalism?
I went to college in Brazil and took international relations. When I was finishing my final paper, I saw a movie called Harrison's flowers. It was about the war in Bosnia and about the story of a war photographer there.
I had to decide what to do with my final college paper, and then it just came to me. That was it, war photography! That's it, that's a career, that's something to do! So I wrote about war photography, completed college, and studied photography in a technical school because I never knew how to use manual cameras.
My mother bought me a camera, and I started photography around my neighbourhood. I photographed the Brazilian elections, took those images to the local newspaper, and got a job there.
I eventually started freelancing for different news agencies. I would go on the streets of São Paulo, covering demonstrations, crime scenes and accidents for about three years. I also spent another three and a half years working with a country musician and travelling across Brazil, photographing concerts.
As a photojournalist, I saw Brazil, the memories were pretty amazing, but the salary was terrible and there no perspective ways to evolve there.
Migration
So what were your motivating factors to come to Canada?
I always wanted to live abroad. When we were exchange students, my brother went to Denmark, my sister went to Australia, and I went to Norway. As I mentioned, we also had many exchange students coming from Canada.
My father also started doing business and travelled to Canada once or twice a year. So I had a lot of exposure to Canada, from exchange students to my father's business.
My father's idea was, if you live in a developing country, you should go to a developed country to see how it is.
I had some money saved up from my work as a photojournalist, and I sat down with my father and asked him to help me go to Canada.
I was just planning to buy a ticket and come to Canada, and my father asked me, "What are you going to do there?" I said, "I don't know. I'm going there just to assess things." He said, "João, you need a plan!" I was like, okay, then help me build one. My father was an engineer; he knows how to build stuff.
So you made a move to Canada alone?
Yes, I wanted a new life, and I knew nobody over here. It was a fresh start, and my family was 100% supportive of it and helped me. I landed in Toronto from São Paulo 5 years on today's date.
Then my partner Mariana, who is also a photographer in Brazil, decided to join me about nine months after I arrived, along with her son. She shares a similar story to me with a mixed heritage and finding it challenging to grow as a photojournalist.
Were there any concerns or challenges you had with migrating to Canada?
My only concern was and still is if it doesn't work out and if, at some point, I had to leave. I'm an easy-going person. If I want something, I go for it, so I didn't see challenges in coming to Canada.
The challenges are every day. It's waking up and putting your heart into something. So coming to Canada, I was sure that I would be somebody if I put my effort here.
How have you been navigating the new normal in our current times?
The pandemic has been making us learn a lot.
Of course, I miss my mother. She would come every year before the pandemic. Even my father still had business and would come twice a year. With the pandemic, they stopped.
You feel a bit stuck. Even for me to go back to Brazil, it doesn't feel like there is a right time.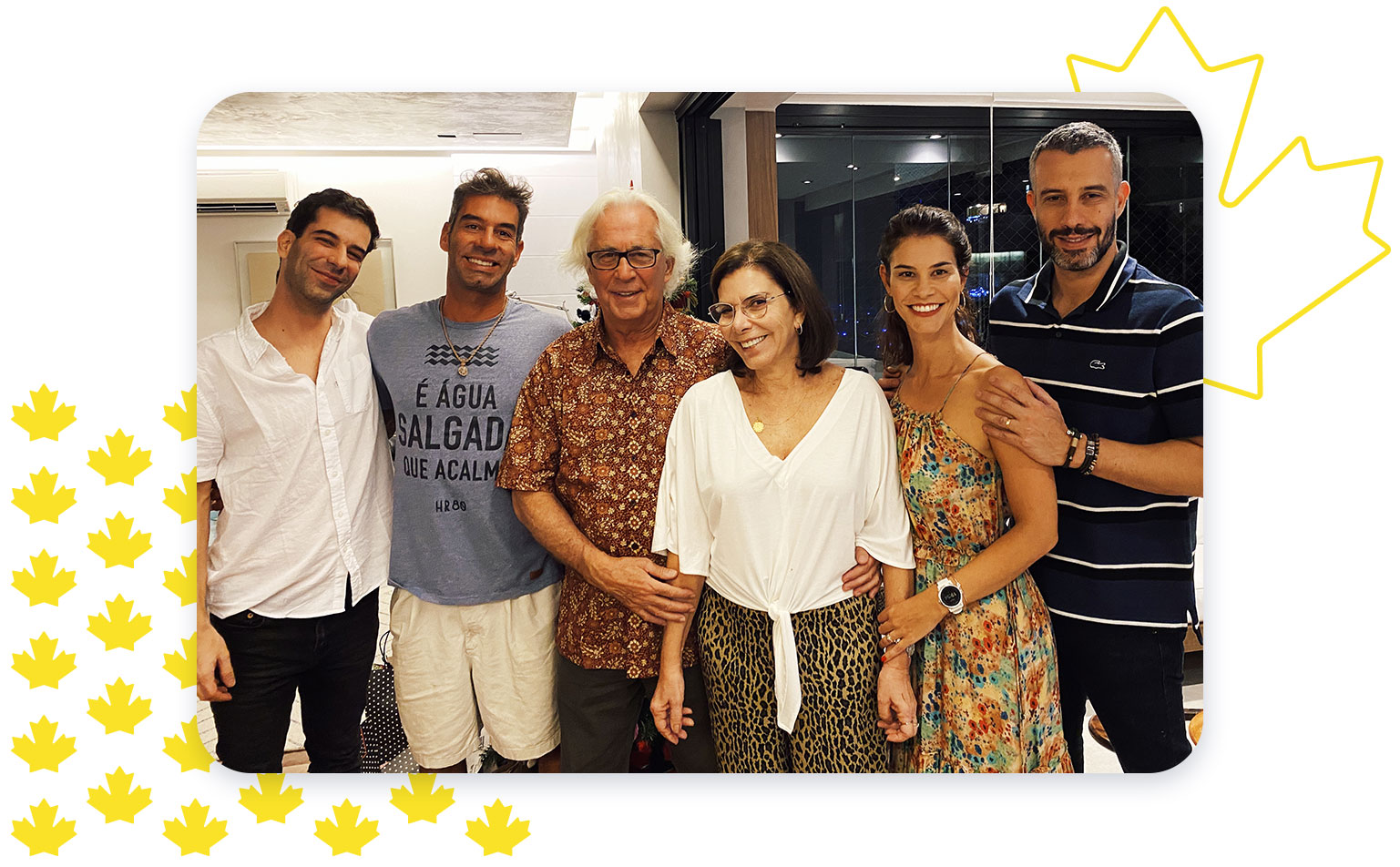 Tell me about this photo you shared with me from Brazil?
This photo was from the last time I went back to Brazil after immigrating to Canada. It was Christmas Eve in 2019 at my sister's house. This is my family, my brothers, my sister and my parents.
I never spent that much time abroad, and I felt accepted in a different way coming from abroad but felt nice, and this was a happy time with my family and me.
If you could give any advice to Canadian newcomers, what would it be?
Put the effort in; it's not going to happen overnight. If you are invited to something, go and put your face out there, network. Don't be afraid to be yourself.
It's a good country, and things will work out, and maybe they won't, but that might also be because you weren't ready yet.
We all go through it. We see the position and the place that we want to work at, and it may feel so hard to reach, but you got to show up and put yourself out there first.
Hopes & Aspirations
What have you learned about Canada so far?
When I studied international relations theory in Brazil, I learned about realism, where I came to believe that most countries care about their own interests. As a photojournalist who covered many crimes and accidents, I witnessed a lot of death. It was terrible stuff, and It started to shape my mind as a realist, where I felt this is the world.
I came to Canada with this mindset, but then I started going to school here, and I saw a sense of community. I was getting opportunities that I would never have had in Brazil.
So my mind started being shaped more by this Canadian idealism. It then became where I saw idealism as my only way out.
There is a huge sense of community here, which is beautiful
So do you have any thoughts on what it means to be Canadian?
Being Canadian is being respectful, polite. It means that you're going to accept me for who I am.
I feel like I already knew Canada even before coming here. I feel that I am connected here in the same way I would be in Brazil.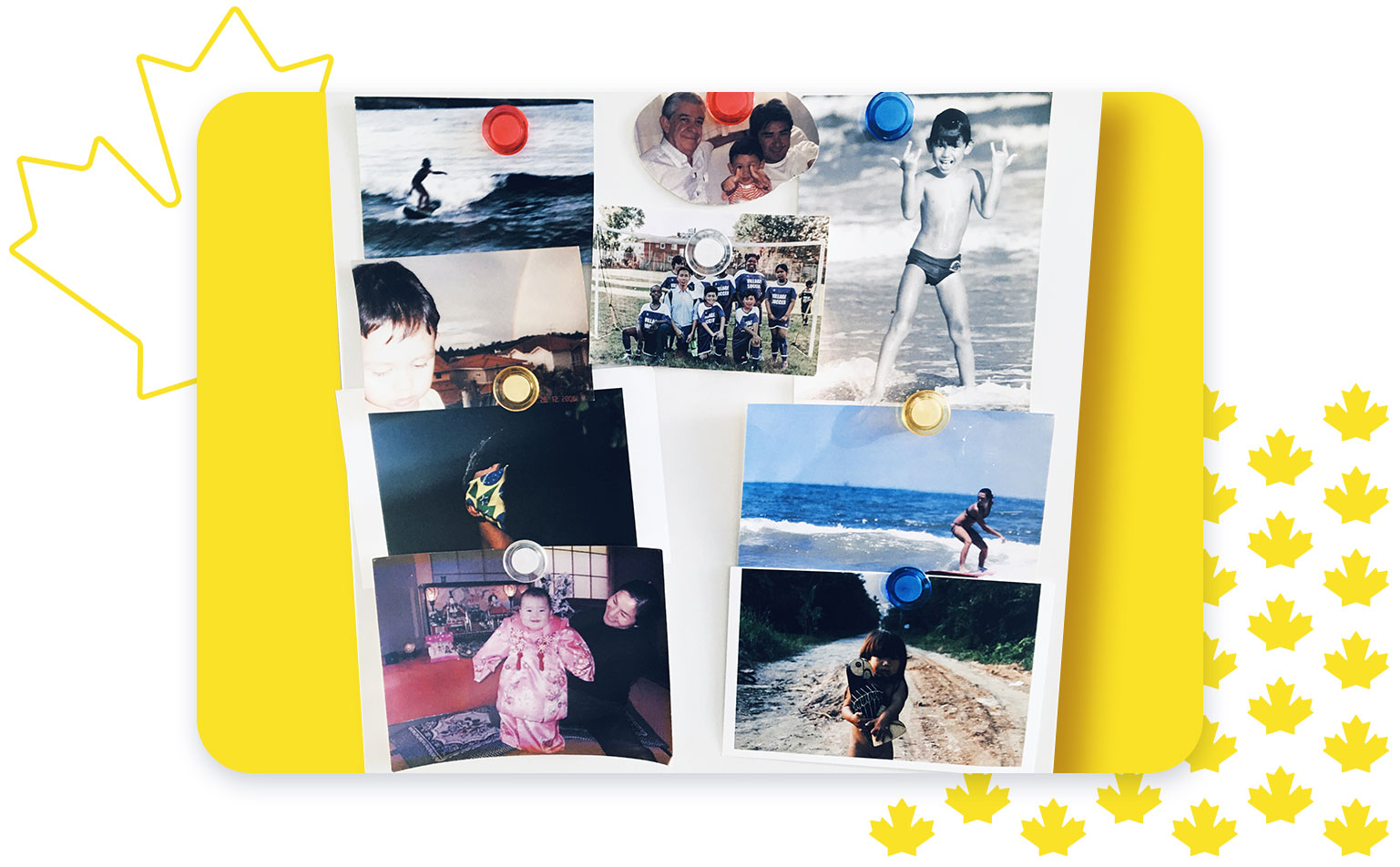 Tell me about these photos you shared with me?
These are all photos taken by my partner Mariana. It's put up in our apartment, where we live. The pictures on top are of her son João who has my same name. Two photos are of him at the beach, where I taught him how to surf, just like my father taught me.
Two other photos are from our work as photojournalists in Brazil. The guy in the mask was pre-covid during a demonstration, and we shot a lot of protests where there were clashes with police in Brazil. The picture on the bottom was from another time documenting a Brazilian indigenous community during the world cup game.
Before We Wrap Up…
What would you do if you were to win Canada's Luckiest Newcomer contest grand prize of $20,000, presented by CIBC and the Canadian Newcomers Network?
It would make me so happy to put a good part of it into community building. When I was in college here, I used the food bank, and I also completed a development project for school. So I would give some of it to the Parkdale food bank. Mariana also has a significant focus on the arts, and I want to help support grow her work. I would use a good part of the money to help her build her art career and programs in the arts.
So tell me, João, what's next for you?
In my role as a Communications Officer with Global Affairs Canada, I'm engaging the public and telling Canadians how international development is important and how they can support it. I'm advocating for the 2030 agenda, poverty reduction and gender equality.
Essentially, I'm advocating for Canadian idealism.
---
As I reflect on João's story, I'm reminded that the colourful fabric of Canada is weaved together by multicultural threads of resilience, hard work and dreams. Stories like this remind me that Canada is stronger today because of Canadian newcomers who bring the wealth of their experiences and diversity, making Canada an ideal place for the world.
---
This Canadian Newcomer Story is produced by The Canadian Newcomers Network and SNCD Media, created through a storytelling process by Sid Naidu.
Sid Naidu is an international development advocate & documentary photographer who uses visual arts and storytelling to create social impact. Instagram / Twitter