Wondering which credit card you should get when you come to Canada? We have the answers!
Which credit card companies offer the easiest credit cards for newcomers in Canada? This article aims to equip you with this knowledge as well as provide you with information on how to apply for these credit cards.
Here is a list of the easiest credit cards to get in Canada: 
CIBC Smart Account for Newcomers
The CIBC Smart™ Account for Newcomers is offered to those who have received landed immigrant status in the last 5 years. Monthly account fee is rebated for one year after which regular monthly account fees apply without notice. Right now, you can get $300 and pay no monthly fee for one year with a CIBC Smart Account for Newcomers.
BMO CashBack Mastercard
The BMO CashBack Mastercard provides a welcome offer of 5% cash back for the first 3 months of purchasing with 0.5% cash back after the introductory rate expires. Additionally, customers gain a 25% discount when renting a car from National Car Rental or Alamo.
Applying for a Credit Card
New immigrants should contact BMO about their Newcomers to Canada program. This program is designed for foreign workers, international students, and new immigrants who reside in Canada. Therefore, people who are planning to move to Canada soon can create bank accounts and finalize wire transfers prior to their departure date.
Scotia Momentum No-Fee* Visa Card
There is no annual fee for the Scotia Momentum No-Fee Visa Card. Additionally, it is unsecured. This means you do not need to give the bank a cash deposit in exchange for a credit limit. For the first 6 months after approval, there is a 7.99% monthly interest on purchases. For the first 3 months, there is also a 5% cashback when you make purchases at eligible drug stores, grocery stores, and gas stations. Additionally, there is 0.5% cashback on all other purchases.
Applying for a Credit Card
You can submit your application online by following Scotiabank's step-by-step instructions. Please note that there are eligibility requirements including permanent resident status, minimum annual income, cannot declare bankruptcy, etc. Please contact Scotiabank to review their terms and conditions to make sure you qualify.
Tangerine Money-Back Credit Card
With a $0 annual fee, Tangerine Money-Back Credit Card allows you to earn 2% cash back in two categories of your choice: groceries, restaurants, hotels, gas, recurring bill payments, drug stores, entertainment, and home improvement. They also offer 0.5% cash back on everything else. In addition, there is no limit on the amount of Money-Back Rewards you can earn on your everyday purchases.
Applying for a Credit Card
To apply for a Tangerine Money-Back Credit Card, customers must create an account with Tangerine using their app or website. This will require your Social Insurance Number (for tax reporting purposes) and employment information.
Home Trust Secured Visa
Home Trust offers two secured cards. However, the recommended option is the "no annual fee" version. Even though it has a higher purchase interest rate of 19.99% than its annual fee counterpart, the higher percentage isn't too bad if applicants pay off their card balances in full every month. Moreover, the credit limit ranges between $500 and $10,000, and cash withdrawals can be made at Visa-friendly ATMs worldwide.
Applying for a Credit Card
To apply for a Home Trust Secured Visa, you must be a permanent Canadian resident, of the age majority in your province, pay a security deposit from a Canadian account in your name, cannot be a resident of Quebec, and cannot be in bankruptcy. Follow the instructions on their website to obtain this credit card.
Refresh Financial Secured Card
Unlike the Home Trust Secured Visa, the Refresh Financial Secured Card has a $12.95 annual fee and a $3 monthly fee. However, it also provides guaranteed approval for those who meet basic requirements, a low purchase interest rate (17.99%), and a low minimum deposit ($200).
Applying for a Credit Card
You can apply for a Refresh Financial Secured Card online by following their step-by-step instructions here.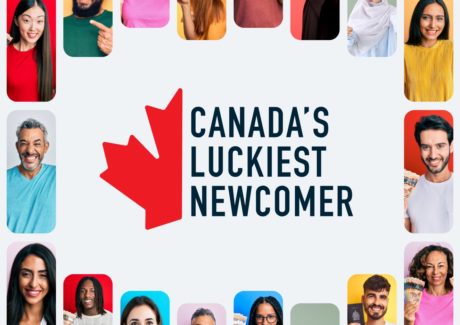 Contest
A giveaway celebrating new Canadians