Interviews that explore the narratives and journeys of Canadian newcomers in our current times.
Over the past few month's I've been documenting stories with the Canadian Newcomers Network. Our mission was to simply engage and highlight the insightful perspectives that Canadian newcomers bring through their life experiences.
When Peeya Aguilar graduated with a Bachelor of Sciences and went on to practice nursing, she knew Canada was where she wanted to be. She moved to Saskatchewan, Canada, to continue her education approximately three years ago. I got a chance to chat with her on her birthday as she shared her journey with me.
Origin Story
First of all, Peeya, Happy Birthday & thanks for taking the time to chat with us. Peeya, could you tell me about your life growing up in the Philippines?
I was born in the province of Antique in the Philippines, in a town called Sibalom, which is known as the rice bowl of the province. I really love my journey and how my life started there.
I remember getting involved in school politics and running for positions that I won. I would spend my time in church on weekends having choir practices and even conducting the choir. At the age of four, I learned how to cook as my mom taught me how to prepare food.
I grew up in a small family. I'm the youngest child and the only girl in the family. My dad spent most of his time working abroad to try and support the family but ended up coming back home because of an illness. After that, my mom took the responsibility of becoming the breadwinner of my family as my dad was only able to work part-time jobs.
I remember my mom always telling me that I had to work towards the goals I want by myself. She taught me that even though she provided for us, there would be a time where I would be on my own.
That's an important lesson on independence. How has that defined who you are today?
It shaped me a lot. It started with learning how to prepare the rice when I was in grade four. Then it grew from there where I was doing the household chores, washing dishes, cooking and doing errands in the market. I would be given a budget and have to decide what meals to cook for the whole day.
My dad suffered from diabetes for close to 30 years, and he passed away in 2011. Since he got ill, I was the one who would take care of him. That's why I took up nursing. It's my passion and my calling to take care of others and my family. I would take my dad to the centre for his treatment, and I would always work night shifts because when I got home, I would have to prepare the food for my dad. It was a big and hard job to be the caretaker and the one who would embrace these responsibilities. My mom had to work for our family's finances, so I became the one who took care of the family, especially my father.
These responsibilities and taking care of my family made me who I made today as a strong, independent woman.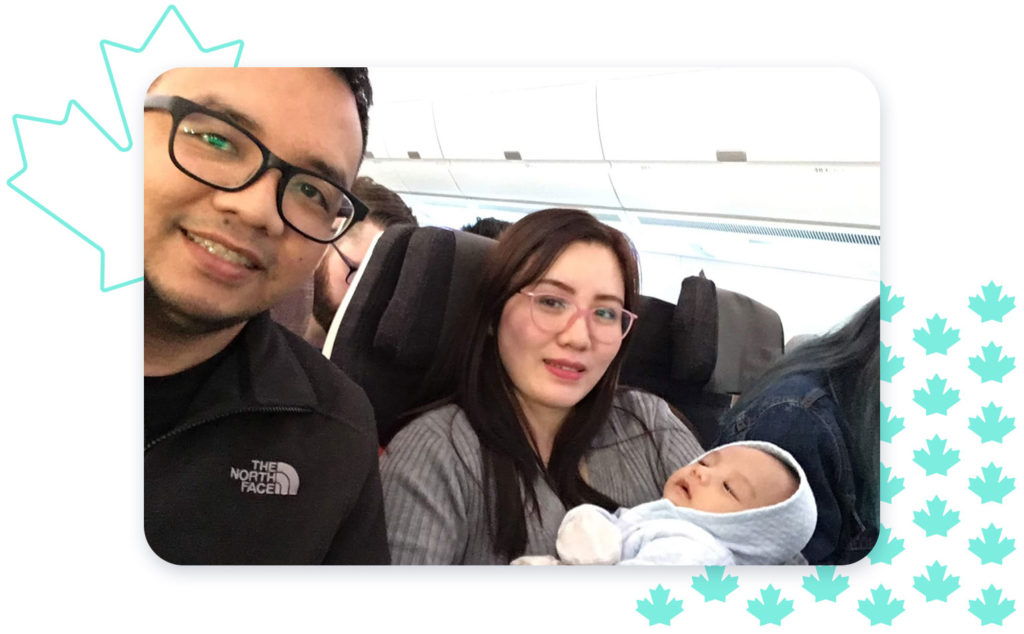 Peeya, It's really humbling to hear your sense of responsibility to take care of your family. Can you tell me about the significance of this picture you've shared with me?
This is one of the four flights I took to get to Canada, and it was our journey from Taipei to Vancouver. This is the good picture we captured at that moment because we were tired, and it was the first time my kid was travelling this far on a plane. My kid was crying, and I remember how my husband would stand up and roam the hallways of the plane to settle him down. This picture tells the journey that we've been through.
Migration
Peeya, What made you decide to migrate to Canada?
When I was taking up nursing in the Philippines, I was only looking towards Canada out of all the countries. I haven't been here before, but I could see in pictures with other people how awesome of an environment and culture it would be.
Due to finance, it was hard to come here right away, so I went to the Middle East to continue practicing nursing, and after four years, I felt it was enough for me. I wanted to have a family and have kids, and I wanted them to have this open environment to enjoy and explore.
Do you have any advice that you would give to other newcomers?
My advice to fellow newcomers would be to set your goals and give time to yourself to reach that goal. It's not always something you will get right away, and you have to work hard for it, pray for it and give lots of effort. It takes a while, but I know every journey has its end and can lead you to the path you want to be on.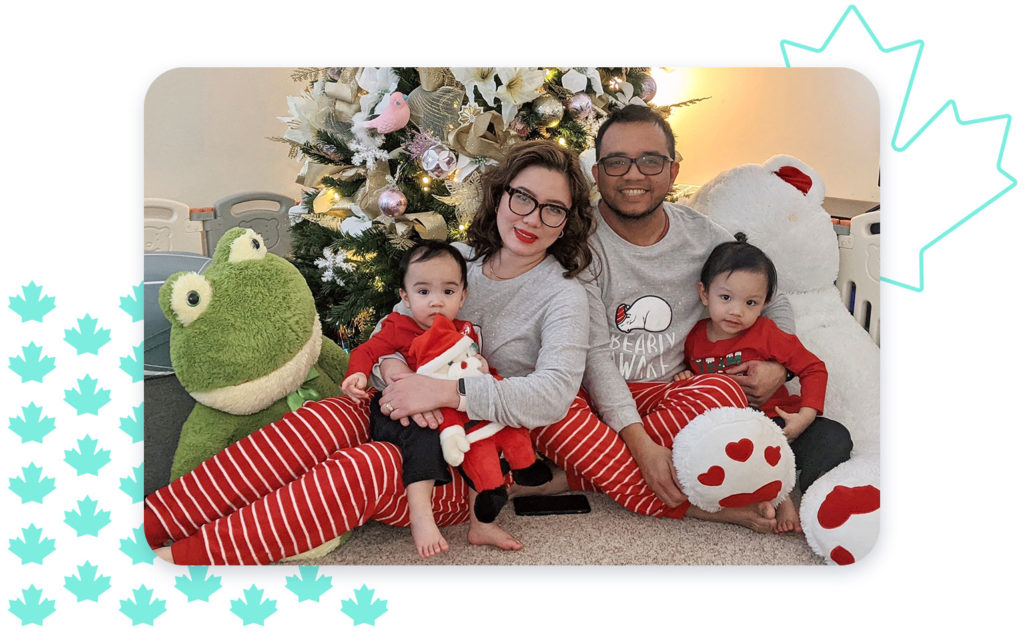 This is such a happy picture. Can you tell me about this photo you've shared with me?
This picture was taken last Christmas, and there are four of us now. We moved to where I am working right now in North Battleford, Saskatchewan. We moved a lot, and I was doing hard shift work, which was hard on my elder kid. Something I miss about home in the Philippines is spending special events like Christmas with my family.
Hopes & Aspirations
Peeya, What are your hopes and aspirations for building a life in Canada?
My hopes and aspirations are to practice my calling to be a nurse. You have to take the time to go through the process, and I'm taking my time to process my residency to focus on my next goal of going back to school to fulfill my ultimate dream: becoming a nurse here in Canada.
What have you learned from being in Canada so far?
The culture is welcoming and well orientated with being a multicultural society. They give a warm welcome to everybody. People see you as equal no matter what your status is in life. You are seen and treated as equal. It was here that I really learned the value of being humble and down to earth. Those values really reflect being a Canadian.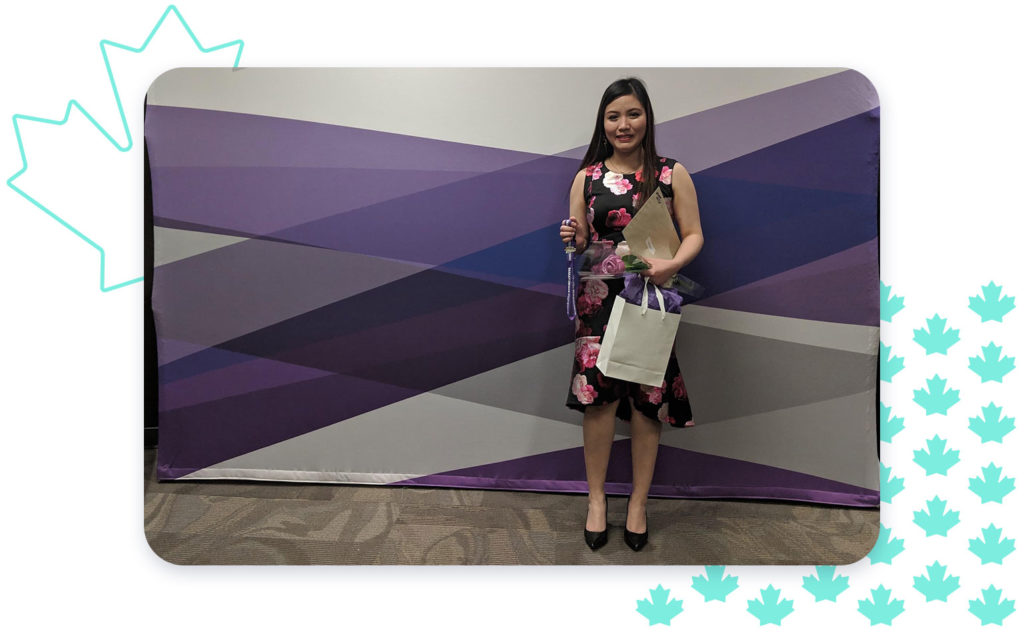 Peeya, can you tell me about this picture you've shared with me?
This was taken after my graduation. It was a pinning ceremony, and I recieved a certificate for complete attendance for the whole course. I really enjoyed my journey being a student and never missed a class. In fact, I was early all the time.
Before We Wrap Up…
What would you do if you were to win Canada's Luckiest Newcomer contest grand prize of $20,000, presented by CIBC and the Canadian Newcomers Network?
If I were to win the grand prize, I would save it for my nursing career because I really value that calling of taking care of others. This would be strong support for me to help the community further, especially because healthcare plays such a big role in Canada.
As I reflected on Peeya's story, I'm reminded that the colourful fabric of Canada is woven together by the many multicultural identities built by resilience, hard work and dreams. Stories like Peeya's remind me that Canada is stronger today because Canadian newcomers bring the wealth of their experiences and diversity to make Canada a better place.
---
This Canadian Newcomer Story is produced by The Canadian Newcomers Network and SNCD Media, created through a storytelling process by Sid Naidu.
Sid Naidu is an international development advocate & documentary photographer who uses visual arts and storytelling to create social impact. Instagram / Twitter