Everything you need to bring with you when moving to the Great White North!
Are you ready for an adventure? Leaving home is never easy, especially when you are choosing to settle in a new country. To make the transition easier, we have developed a list of moving to Canada essentials. These items should be gathered weeks — if not months! — before your departure date. Feel free to print out this article and check things off as you go.
Essential Documents
Gather all of the original copies of documents that you and your family are going to need as you transition into Canada. These documents relate to your education, health, profession, and more. This will include:
Passport — This must be valid and up-to-date.
Birth Certificate
Marriage or Divorce Certificate; Death Certificate for a deceased spouse
Adoption records for adopted children
All Official Vaccination Records
Medical Records — This includes test results, allergies, prescriptions, x-rays, dental records, and more.
Educational Diplomas and/or Certificates
Detailed Resume or Curriculum Vitae — Using the Canadian format.
Contact Details of Reference and Reference Letters
Driver's License and/or International Driving Permit
Driving Experience Letter or Certification — This lowers the cost of your auto insurance.
Records of Income — Your earnings a year prior to moving to Canada.
Visa or Work Permit
Any additional Immigration Documentation
If you do not have these documents, then start applying for them as soon as possible. Some of these require time to process. Additionally, it is important to note that applying for these documents after landing in Canada can be much more costly and time-consuming. So do this before your flight!
These documents should be in both English and French as these are Canada's official languages. If they are not, then you are required to translate them and get an affidavit that confirms that the translation is accurate.
Also, if you are bringing a pet with you, review the airline's specific rules and guidelines for travelling with a pet. They may be required to have certain shots, documents, and even their own airline ticket!
Please note: When travelling, it is wise to keep copies of your important documents because you may need extra copies for various applications. You do NOT want to lose the originals.
Funds and Finances
Get your finances in order. How much do you need to bring in settlement funds? This amount depends on your immigration pathway and family size. Research Canada's rules about the amount of money you can bring as well as the currency rules.
You will be required to declare bringing more than CAD $10,000. Therefore, you will need to use the cross-border currency or monetary instruments report form to complete this. The Canadian Border Service Agency (CSBA) can seize undeclared money that is over CAD $10,000 and you will have to pay a fine and face penalties for failing to report this information.
Pre-Departure Seminars
Have you heard of pre-departure seminars such as the Canadian Orientation Abroad (COA), Active Engagement and Integration Project (AEIP), or the Canadian Immigrant Integration Program (CIIP)? Well, these are great for anyone moving to Canada. Seminars such as these provide essential information regarding housing, health, employment, settlement services, as well as the culture and life in Canada. Most importantly, they help to prepare and plan your next steps and connect you to settlement supports once you enter Canada.
If you're looking for more information, then explore the Settlement Online Pre-Arrival (SOPA). This is a free program that works to prepare you for employment in Canada through one-on-one information sessions, courses, and employment counselling.
Canada's Official Languages
If English is not your first language, then dedicate time to improving your language skills. English is important because it is the official language across Canada. Therefore, practice speaking and writing in English because this can affect who hires you. You may also consider picking up a bit of French as it is Canada's second official language.
Insurance: Quick Tips
Do you have travel insurance? This may seem like an unnecessary cost, but it can be a lifesaver if anything does go wrong. Don't forget to look into health insurance for medical coverage when you arrive!
When it comes to driving/auto insurance, make sure you have a "no claims" letter that can serve as proof of driving history and reduce your insurance premium costs.
Accommodations
Have a place pre-booked for the first few nights when you arrive. You will be required to provide this information when your plane lands. Moreover, having accommodations ready will also remove the added stress of trying to locate a place to stay when you are tired from travelling.
Emergency Contact List
This is always important to have. In case anything goes wrong, make sure the right people will be notified. Therefore, create a list of emergency contacts. This can be your parents, siblings, local friends, relatives, etc. Email this list to yourself and print out a physical copy for reference. Don't simply rely on your phone.
Winter Clothes
Yes, this is an important one for anyone who is moving to Canada. You will need a pair of gloves, a scarf, and a warm hat if you are arriving outside of the Greater Vancouver Area during Canada's winter months. After you arrive, purchase a good winter coat that is suitable for the weather conditions. You will need it!
In the end, there are a number of things you need to bring with you when you are moving to Canada. Utilize this list to prepare and plan for your trip!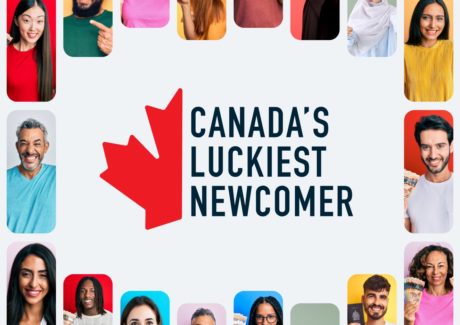 Contest
A giveaway celebrating new Canadians